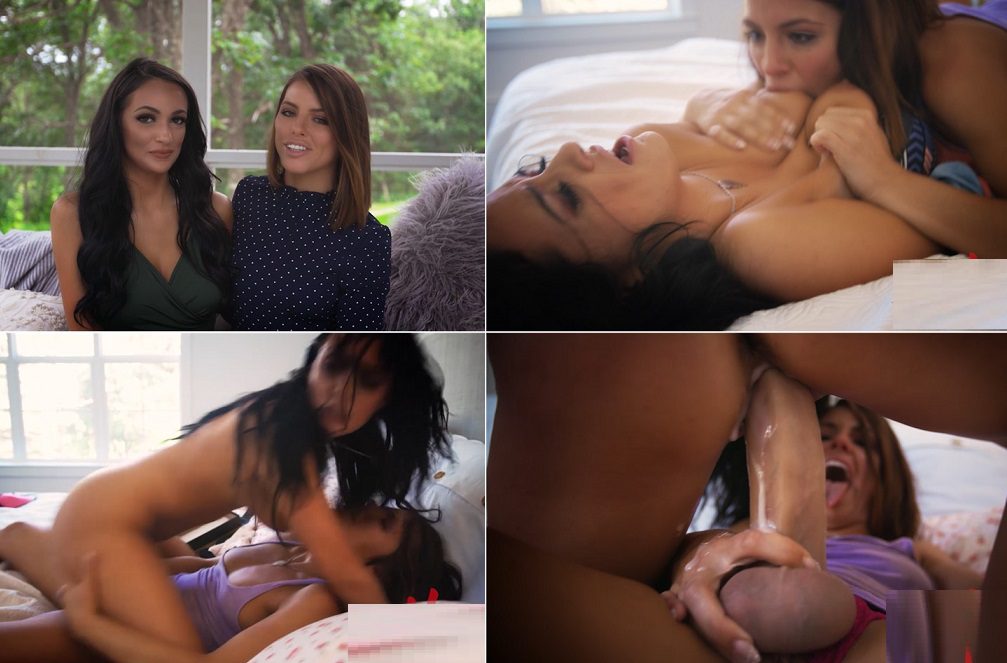 FUTA Fetish – My Mommy Gender Transformation HD (720p/2017)
Added: 8/6/17
Includes: Adriana Chechik, Sofi Ryan, creampie
Adriana has just moved in with the Ryans through her foster care agency six months ago. Sofi and Adriana became fast friends but had a terrible argument. Sofi said very hurtful things to Adriana like, "you don't belong in this family, you're not my REAL sister, you'll never belong in this family." As soon as the words came out of Sofi's mouth, she regretted them. Sofi decided to buy her a very special present and apologize.
It's early in the morning and Adriana sees that the Ryans are out of the house. She takes the opportunity to read one of her favorite erotic novels, it's a supernatural story about a woman changing into a sexual beast by the moonlight. The dark haired woman in the novel reminds Adriana of Sofi, and she dreams of being the protagonist in the story, as if she's taking Sofi, kissing her lips, running her hands through her raven black hair, and peeling down her pink gingham panties. She hears the door open and close, she hides her novel and tries to act natural.
Sofi comes into her room with a gift. " I have no idea what it feels like for you, it must feel terribly isolating to feel like you never belong. I didn't mean it when I told you, you're not my real sister, because I truly believe the opposite. You're as real to me as anyone I have ever known in my entire life. You're my best friend, You're my sister, and I am so grateful mom and dad adopted you." Adriana's heart fills with gratitude, a tear falls down her cheek. She asks where she got the necklace?
Sofi explains that she got it at the Curiosities Shoppe downtown. Adriana's muscles tense, "are you serious?" "I know that place has a bad rep, but it's silly. The lady who owns it isn't evil, she's kind, and she blessed these necklaces for FREE." Adriana, "Sarah told me last December that she was with Chrissy Clepto and the old lady caught Chrissy putting some weight loss potion tea in her purse, the old lady came out of nowhere and grabbed her by the hair, Chrissy was speechless. Then she spoke in tongues and Sarah watched her, like frozen and horrified, then just like that *Adriana snaps* the old lady spit in her face to solidify the curse. The old lady ripped out a bunch of her hair when Chrissy peeled away, God knows what she did with it, Chrissy and Sarah ran out terrified. ."
Sofi, "No, Adriana.. I've heard that too, but Chrissy was a troubled girl, her suicide had nothing to do with being cursed."
Adriana, "What about Sarah? She ended up in the institution"
Sofi, "Birds of a feather flock together, she was troubled too."
Adriana looks at Sofi in the mirror, "it looks so beautiful on you, [Sofi] "and you" [Adriana] and I feel really happy wearing it."
Sofi, "really?! You're not scared of it or anything?
Adriana, "uhm, a little I guess, I think she's creepy, but I'll get over it. I know she wouldn't want to curse you, you didn't steal from her or wrong her in anyway."
Sofi, "yeah.. it's a GOOD spell, we're going to get what we want most out of life."
Adriana looks at her suspicious, she nods her head.
Sofi, "Good are you ready for the spell?"
Categories: FUTA, BLOW JOBS, CREAMPIE, TABOO, GENDER TRANSFORMATION, adriana chechik, adriana, sofi ryan, sofi, Mother and Son, Milf, Mama, mom, mommy, Incest , Blowjob, Incest Roleplay, Natural Tits, Family Fantasies, Family Roleplay, Family Secrets, Family Sex, blackmail fantasy, Fetish, Impregnation Fantasy, Incest family, Secrets Fantasy, Incest RolePlay, Incest stories, Incest Video, petite,Porn,POV, Role Play,Taboo, Download Free Incest Video.
Format: mp4
Resolution: 1280 x 720
Duration: 00:19:08
Size: 573 Mb
https://filejoker.net/8vsmz3lgqehp/a_-_8775_Adriana_Chechik_and_Sofi_Ryan_Soul_Sisters.rar