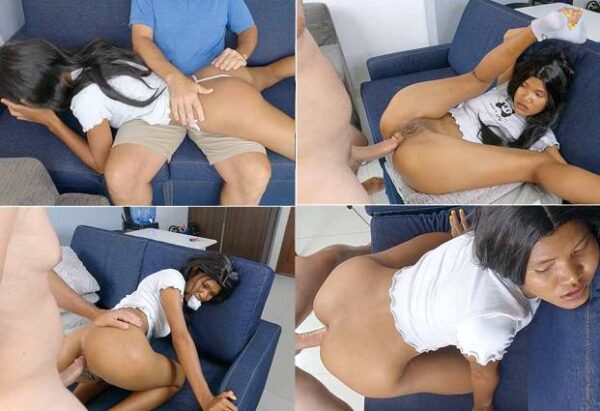 Step-Daddy came home from work early and caught taking naughty selfies! First he spanked me, but then he still said he was going to throw away my phone! I begged him to try another way. There must be something else we can do.
00:00 – 04:00 The buildup, including the spanking.
04:00 – 06:30 BJ with some deepthroat. I can tell the spanking excited Step-Daddy because he is rock hard!
06:30 – 16:00 Missionary anal on the sofa with my legs pulled back and a great camera angle. I was crying too loudly so Step-Daddy took off my sock and stuffed it in my mouth.
16:00 – 24:00 Doggy anal on the sofa, you can see my face the whole time. Great camera angle again and gaping.
24:00 – 27:00 Doggy anal, but with a top down camera angle from high up.
27:00 – 31:17 Doggy anal from underneath looking up. Sometimes anal makes me feel so good I get overwhelmed. Step-Daddy fucks me super hard and leaves me a gaping mess. He walks away leaving me panting and trying to catch my breath.
Format: mp4
Resolution: 1920 x 1080
Duratio: 00:32:58
Size: 1959 Mb