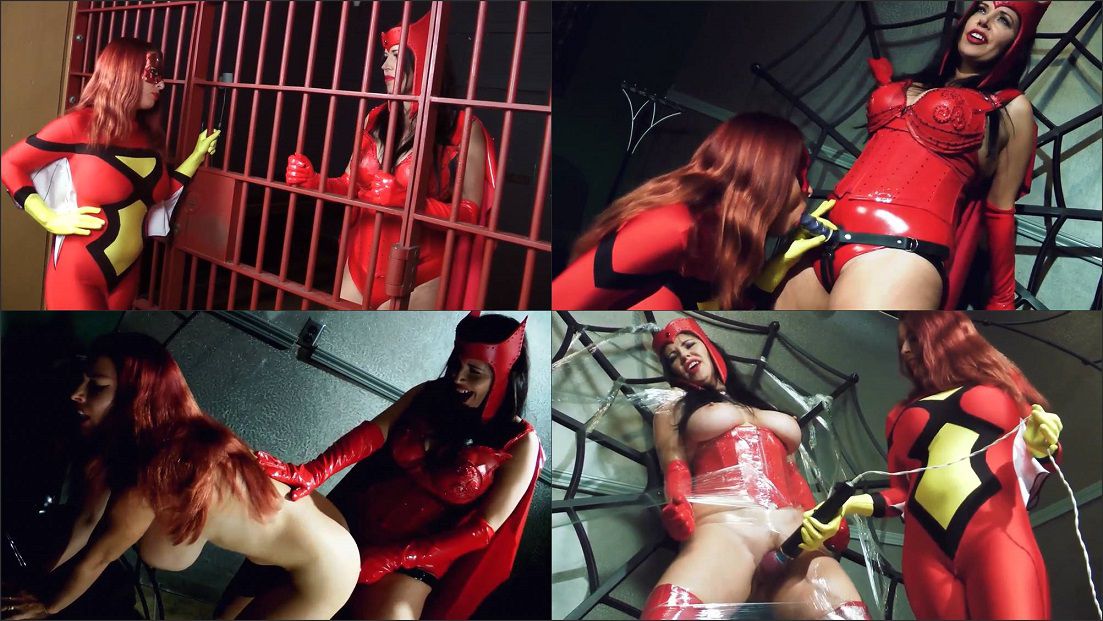 Scarlet Witch VS Spider-Woman, Caught in her Web introduces a new super-heroine, Goldie Blair as Spider-Woman to the parody series. Anastasia Pierce continues her journey as the super heroine character Scarlet Witch.
After taking advantage of Batwoman (see episode Scarlet Witch VS Batwoman, Origin) an arrest warrant was issued against Scarlet Witch. She has been taken to jail. Spider woman is a bounty hunter and has been hired to transfer Scarlet to a SDF – Superhero Detention Facility. Both women are friends and part of the Avengers.
When Spider woman arrives to the jail, Scarlet Witch is happy to see her and thinks that she is there to post bail. Instead she finds out that her friend is there to transfer her to another facility. Scarlet doesn't take the news well and doesn't plan on being easy on Spider-Woman. Once Spider-Women enters the Jail cell the women break into a fight.
Spider-Woman gets the upper hand because she is a better fighter but Scarlet Witch is far from giving up. As a mutant, she uses her powerful powers and some chaos magic to take over Spider-Woman's mind. She will then order her to take her to a safe place where no one will find them – Spider Woman's Lair.
Once at Spider Woman's lair, Scarlet Witch continues to alter the Spider's reality and takes full advantage of her. Make her submit and humiliate her sexually for revenge. All for betraying her friendship. She will spare nothing and use a big strap-on as revenge.
But the adventure continues, after Spider-Woman orgasm and she suddenly regains consciousness. She will turn the table on Scarlet Witch!
Spider-Woman will use her BIO ELECTRIC BEAM form her hand in order to mummify Scarlet in a full wrap to her web. She will then have her own revenge putting helpless Scarlet in an expose and vulnerable situation using a powerful vibrator to make her scream, what will she do next?What will happen to them?
The clip features: Anastasia Pierce, Goldie Blair, Scarlet Witch, Spider-Woman, Peril, Authentic super-heroine costumes, cosplay, fighting, mind control, stripping, Super-Heroine, Super-Villain, mesmerize, probability manipulation, reality alteration, Chaos Magic, Mummification, Bio electric beams, Bondage, humiliation, strap-on, SHIP, parody, knockout female domination, girl-girl, fondling, oral sex, strap-on sex, peril and much more!
Categories: SUPERHEROINES, SUPER VILLAIN, BONDAGE, GIRL-GIRL, DAMSEL IN DISTRESS, PERIL, mesmerize, villain, fight, knock out, goldie, peril, spider woman, cosplay, ship, super hero, lesbian, mind control, bondage.
Format:mp4
Resolution:1280×720
Duration:00:24:13
Size:377 Mb
https://filejoker.net/g42la2f2reln/sup_-_0727_Scarlet_Witch_VS_SpiderWoman.rar