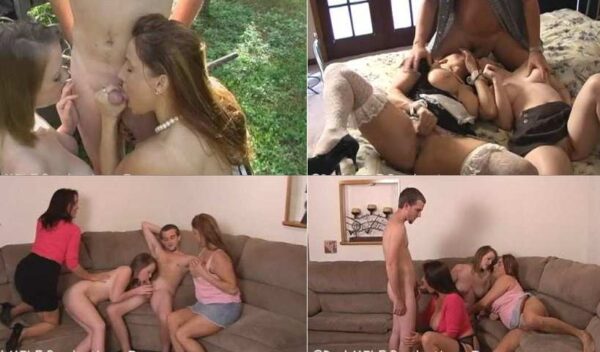 Classic MILF618
STANDARD DEFINITION VERSION. Stacie was a wife and step-mother. Her husband had been acting strange lately, actually so had her step-daughter Leihla and her step-son Phillip. It seemed they were all off in another world; daydreaming and talking in their rest. A few times her step-son approached her to tell her about and when she gave him the opportunity he clammed up. Her husband had also mentioned he wanted to speak to her about thoughts he was having about their step-daughter but would keep putting it off. Stacie decided to seek counseling for her family. Dr Rachel Steele had been practicing family sessions and was well known in her field.
She would first get some background from each family member. It usually consisted of having the subject describe their fantasies from the past and any fantasies they have had recently. She interviewed Philip first. He told her that he was having sexual fantasies about sex with his step-mother, step-sister, aunt and all three together. Dr. Steele specialized in ncest and was able to remain unflustered when he told the details. Next Dr. Steele interviewed the husband. He confessed having his wife dressed as a maid and his step-daughter giving him oral sex while his wife watched. Then he fanaticized about them naked on the bed as he had sex with them and cumming all over their faces. After a few more sexual confessions from them, Dr. Steele decided to bring her final diagnosis to them at their home. The family was all there except the step-dad, he did not want to be a part of it. Dr. Steele sat them down and told them she came to the conclusion that to hold or repress ones fantasies in is not healthy. She explained she was so well known for family counseling because she had great results with families staying together. However her methods were less than orthodox. The family agreed they would be open minded to whatever she suggested they do. Dr. Steele shocked them when she said they should act out their fantasies and they should do it immediately. They all looked embarrassed so Dr. Steele started it. She slowly undressed Leihla for her step-brother. Leihla got on her knees and started to suck his cock. Dr. Steele joined them on the couch encouraging their step-mother to watch. Thing progressed and Dr. Steele confessed to the family that it was a huge turn on to be a part of it all. Phillip fucked his step-mother, then his step-sister then one for the doc. All three sucked and licked his cock until he came. It was a successful session. Dr. Steele told the family to live their fantasies out from now on.
Tags: Busty / Big tits, Mature, Brunette, Step brother, step sister, sisters, Cumshot, Facial, Threesome, FACIALS, BLOW JOBS, THREESOMES, OLDER MEN / YOUNGER WOMEN.
Format: mp4
Resolution: 640 x 480
Duratio: 00:41:40
Size: 713 Mb
https://fboom.me/file/1a251d7902d27/aincest_-_29082_Family_Counseling.mp4