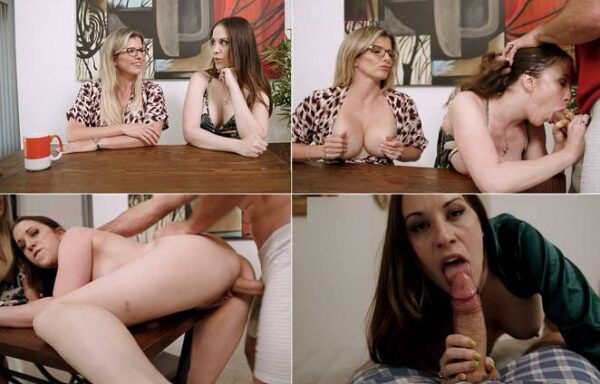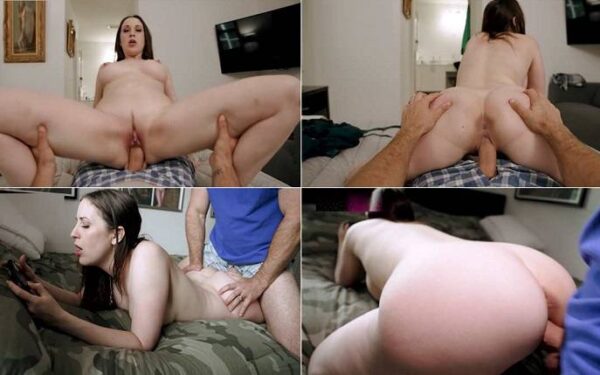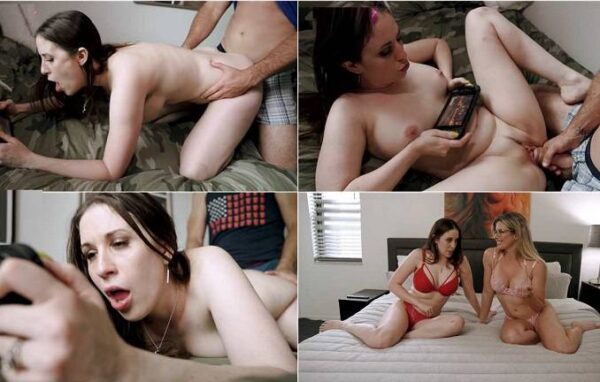 *Bare Back Studios' 3rd best-selling clip as of 9/15/2021
Watching my Step Sister fuck my Step Son
It's been Six Months and Amiee's sex life is starting to get stale with her Step Son. She is talking things over with Cory, about how she is in a routine now with Luke. Cory brings up kinky request…Cory wants to watch Amiee fuck Cory's Step Son. Amiee was not expecting to turn her head and see the biggest Cock she has ever seen. Amiee's eyes bulge and she knows exactly what to do! But first a nice blow job and then a titty fuck. Amiee's tits are made for Titty Fucking!!!
Cory guides her step sister over to the table and has Jmac slide his huge cock in and out. Cory is so turned on watching her Step Son fuck her horny Step Sister. Cory plays with Amiee's tits and even kisses her Step Sis while Jmac fucks his Step Aunt. Amiee then bends over the table as Jmac fucks her better than she ever has before. She wants him to fuck like the good whore she is and right then, Jmac dumps a big fat load into her tight wet MILF pussy.
She is still horny and Cory wants to watch Step Son fuck Amiee again!
Step Mom Craves Big Cock
Waiting on Amiee's bed, stroking his cock, Step Son is ready to fuck again. Amiee walks out with her robe barely on watching her Step Son. She opens it up and slips into bed with him. His cock is ready and Amiee begins to suck him off, but what she really wants is to ride that big hard cock. She jumps on and fucks him good. She grabs her tits and puts his hands around her neck. Amiee loves it! She leans back and continues to ride the cock, she even slaps her pussy a couple times.
She flips around and goes into reverse cowgirl and slaps her brown hole in his face, such a good step slut Aunt! Amiee catches a but cramp riding that big cock and asks Jmac to take over. She flips to her back and let's Step Son take over. This is the biggest cock she has ever taken and has him fuck her till she cums all over that big dick! After she had her fill, Amiee then let Step Son creampie her once again…
Fucking My Cheating Step Mom
Amiee's Step Walks into his room and just passes by his Step Cousin. Luke wanted to know why Jmac's dick was out and why Amiee was naked on his bed. Amiee did not hold back, she said he just fucked her. And he could use her pussy too just like Jmac did. Luke tries to reclaim his Step Mom's pussy but jealous fucking her milf pussy. Amiee keeps playing the Switch as Luke fucks Step Mom how he knows best. She is liking this jealous fucking and wants more. He flips her over into doggy position and takes the milf slut to pound town too!
Luke is fucking the ability for Amiee to properly push the buttons on her game. She powers through it and keeps playing, what a trooper Step Mom is and takes another load into her still tight pussy.
Fucking Step Mom While She Plays My Switch
Amiee is playing naked on my bed with my switch when Cory's Step Son walks in with a Boner. Amiee looks behind her and says he can use her however he wants. She continues to play my Switch as he slides his cock in between her buttcheeks. This distracts her a little but she keeps playing. Jmac does not care, he just wants to fuck his Step Mom's hot Step Sister again! He watches her playing the switch and can't believe how well she is doing, taking the D and concentrating on the game. He flips her around into doggystyle, her game play is junk now but she is enjoying the D so much more. She decides to give up on this Boss and let Jmac fuck her pussy like the huge Milf Slut she is till he unloads again into her pussy as she begs for his cum.
She did not realize the Boss Battle started again as he squeezed every drop of cum into her pussy.
Step Mom Wants Two Cocks
Almost naked on the bed, Amiee and Cory are plotting something big. Amiee wants to watch Cory fuck Luke while Jmac fucks her. When they were younger, they shared everything and now they want to share Step Sons. They kiss on the deal and call the Step Sons in. Luke fucks Cory as Jmac fucks Amiee, both Step Moms are bent over. The kissing Step Sisters are banged so nicely as Amiee says she thinks she could never get tired of this Step Mom Swap!
The Step Son's then take turns and Tag Team the pussy. Luke unloads into his Step Mom's mouth with his cum and Amiee passes it to her Step Sister. Then Jmac fucks his Step Mom till he cums in Cory's mouth. Cory shows off both loads and then swallows every drop. Amiee gives Cory a couple kisses and they agree to take a warm shower, clean off and plot the next orgy…
Format: mp4
Resolution: 1920 x 1080
Duratio: 01:03:13
Size: 2761 Mb