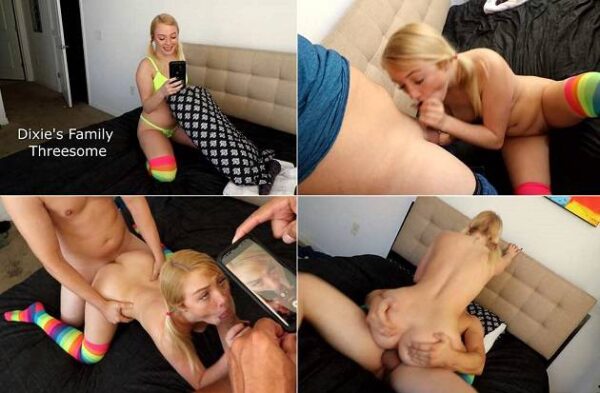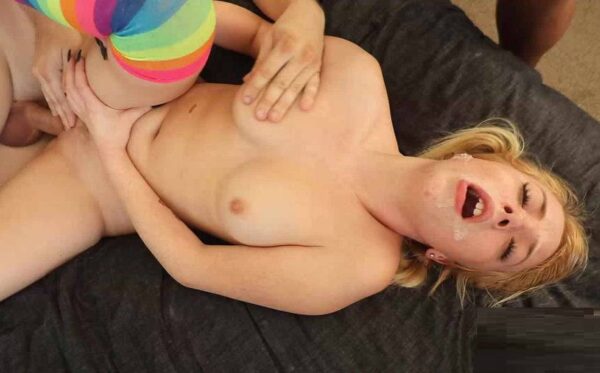 Taboo Family Affairs
Dixie has a huge following on her "Fans Only" account and today she's going to give her fans a special treat. She's going to broadcast trying out her new unicorn dildo from Bad Dragon on her step-brother Johnny's bed. Dixie starts her show and tells her fans what a naughty slut she's going to be and who's room she's masturbating in. About 5 minutes into her show, her step-brother comes home and walks into his room getting a big surprise. "Why the fuck are you doing that on my bed?" he questions. Dixie smiles and tells her fans she'll be right back later.
She tells Johnny she just wanted to give her fans something different and offers to make it up to him as she unzips his pants. Dixie hands him the phone and starts sucking his cock. She gives her step-brother more than just a blowjob, she gives him her tight 18 year old pussy also. The horny siblings are so into fucking each other they don't even notice her step-daddy Warren watching from the door. "Well it looked like fun online so I thought I'd watch live" he says surprising them both.
Dixie had no idea her step-dad has been a member on her Fans Only for months. Her masturbating has quickly turned into a family threesome with step-father and step-son. They give her a pussy pounding and face fucking her step-mom would be proud off. Her step-daddy finishes off giving her a sticky dripping creampie and Johnny covers her faces with a huge messy load. "That was a great cumshot step-son" Warren tells Johnny. "Now go to your rooms.. you're both grounded".
Wait, what?
Format: mp4
Resolution: 1920 x 1080
Duration: 00:26:26
Size: 1167 Mb