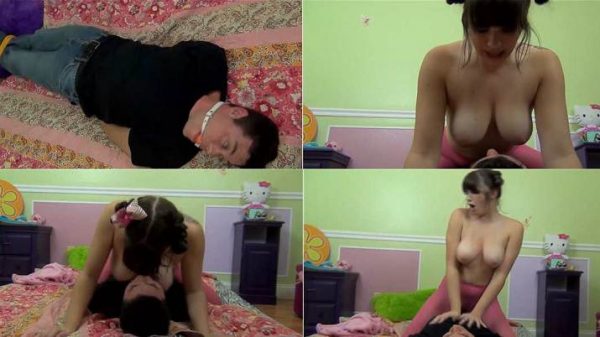 Poca's big brother Theodore wakes up, confused…he's…tied to the bed??? That's right! Pocahontas Jones storms in, angry at Theodore for being a dumb bully the previous night! He kissed Poca's best friend…touched Poca's best friend's boobies…and ate all the pizza! What a jerk!
Well, Poca decides that she's going to teach him a lesson! Figuring that he probably likes ANY boobies – mommy's boobies, HER boobies – Poca takes off her robe, revealing her big, juicy, all-natural titties, and smothers Theo with them! Over n over again she drops her boobs on his face, covering his mouth, asking him questions that he can't answer (because he has a mouth full of titty). She smothers his face, covers his face, slaps his face and rubs his face with her big boobies, verbally humiliating him the entire time!
After a ton of breast smothering, Poca notices that Theo's got a hard-on! A boner! Eeeeeww! So gross! She gets up and storms out and leaves him there – yuck, good riddance!
Format: mp4
Resolution: 1280 x 720
Duratio: 00:08:08
Size: 225 Mb
aincest – 44524 Breast Smothering Revenge on Big Brother.mp4