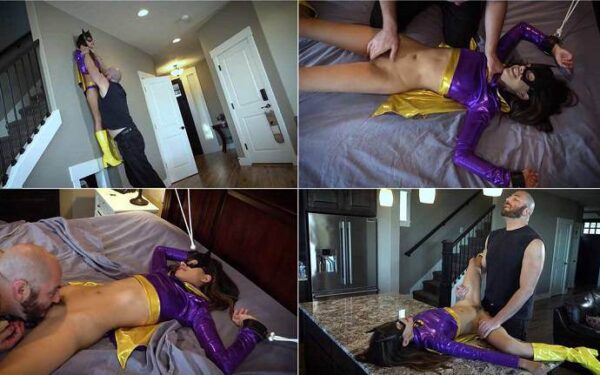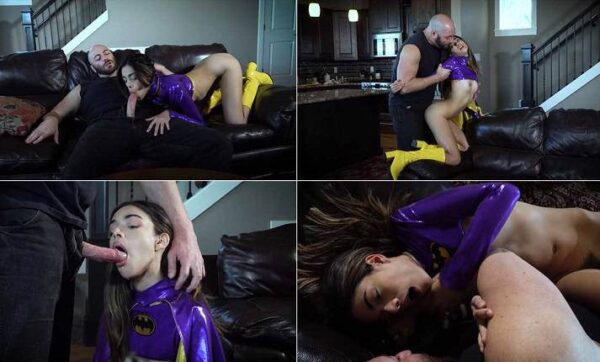 JohnM
The crook runs into the house and hides in a closet. Batgirl follows soon after. She finds the crook and they fight in the living room. Batgirl gains the upper hand at first, but soon the bigger man is stomping her on the floor. The crook wraps his hands around Batgirl's neck and lifts her up. He strangles her against the wall until she passes out.
The crook carries the unconscious Batgirl upstairs and ties her to the bed. He roughly forces his thick fingers in Batgirl's pussy and licks her clit. Batgirl whimpers and moans, not allowing herself to enjoy it. The crook pulls out a vibrator and holds it firmly against Batgirl's throbbing clit. He forces her to cum hard.
After untying Batgirl, the crook forces her on the knees and makes her gag on his cock. The masked superheroine bobs her head on the crook's fat dick. Batgirls drools all over her purple costume. The crook pins her down on the granite countertop and slides his cock in her bat-cave. He makes Batgirl sucks his cock again. She tastes her pussy on her attacker's cock. Batgirl does her best to please him. Her mask is off and she's gazing into his eyes as she chokes down his boner.
They move to the couch and the crook makes little Batgirl ride his hard cock. The little superheroine bounces up and down, twerking on her assailant's cock. She keeps her yellow boots on the whole time. Batgirl jumps to the side and sucks the crook's cock again. She bobs her head in his lap, her cute little ass in the air. The crook fucks Batgirl doggystyle then makes her blow him again until he unloads his jizz in her mouth.
The crook immediately binds some rope around Batgirl's neck and garrotes her on the couch. The superheroine writhes and kicks wildly. Despite her flails, she can't free herself from the deadly stranglehold. Batgirl's movement slows and the light finally fades from her brown eyes. This is one crook the caped crusader should have let go.
Note: Actresses are over 18 at the time of filming and the word "teen", "teenage", "young girl" is only meant to imply legal age characters regardless of audience interpretation.
Format: mp4
Resolution: 1920 x 1080
Duration: 00:26:36
Size: 1265 Mb