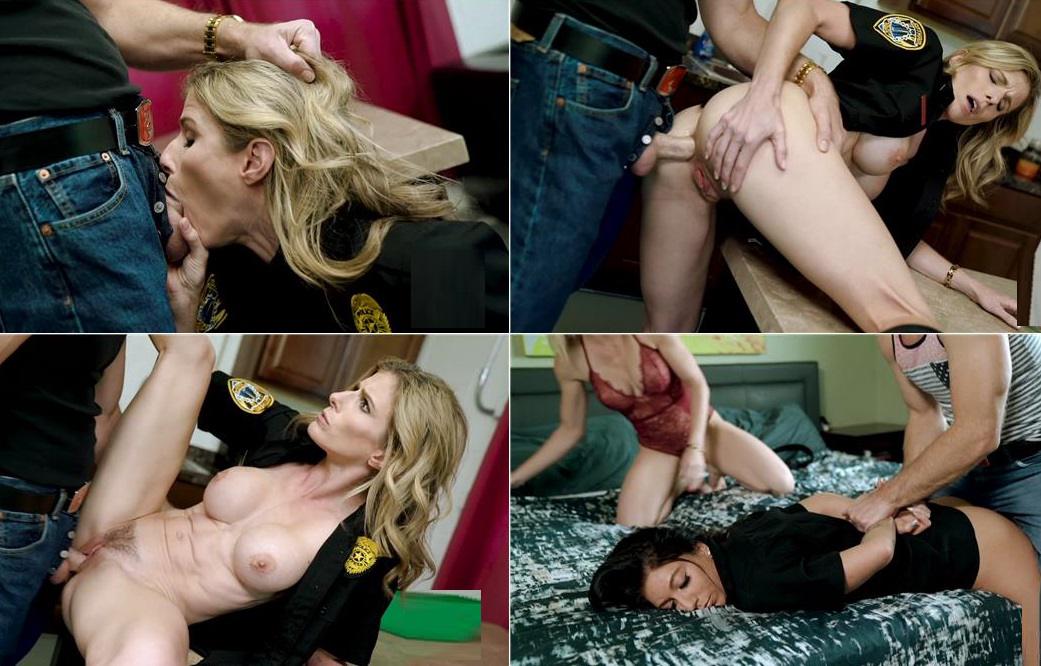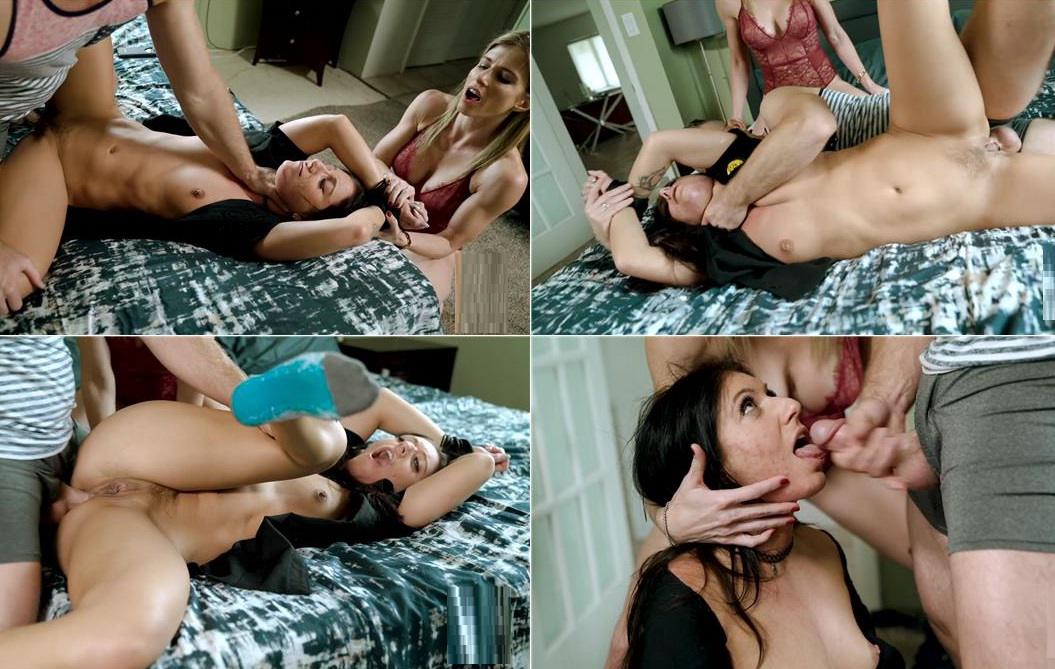 Scene One: Dirty Money
Scene Two: Unlawful Penetration
Alissa is a petite brunette rookie cop, straight out of the academy. She doesn't know much about the job yet, but she decides to take it upon herself to bust the country's #1 bank robber! She enters the house, alone, and points her weapon towards a back bedroom where she notices Sergeant Chase resting her eyes in a red lace teddy. Alissa takes the edge of her weapon and pokes Sergeant Chase's foot with it, trying to wake her up. Alissa nervously points the weapon at her while yelling "Where is he?! Where is Luke!? I know you know where he is!!" Alissa is so nervous and so focused on Sergeant Chase that she doesn't even realize that Luke is sneaking up behind her, until it is too late. He puts her in a chokehold and she slowly drops her weapon and falls asleep; Luke places her down on the bed beside the sergeant. The two of them begin to undress Alissa "I'm going to fuck all of her holes, in no particular order!" Luke tells Cory, as the two of them proceed to tie Alissa's hands behind her back. They wake Alissa up and she is extremely confused as to what has happened to her. Sergeant Chase tells her how silly it was of her to come here without any backup, radio or phone! How did Alissa seriously think that she could arrest the country's #1 bank robber all by herself?! Luke gets on top of Alissa and shoves his hard cock in her mouth. Sergeant Chase starts taking some photos of this, as blackmail.
The two of them plan to blackmail Alissa in to keeping her mouth shut and perhaps even joining their team! Alissa resists at first… but surely she will change her mind when they are done with her! Luke begins to fuck her pussy, nice and rough, while Cory holds her head up, making Alissa watch his cock go in and out of her. Luke starts to fuck her ass and then switches back and forth between both of her holes while Cory helps him. The two of them flip Alissa over and Luke continues to fuck both her ass and her pussy, in no order, and he spanks her ass while doing so. "I'm going to fuck you until you like it!" Luke exclaims. "I love watching this!" Sergeant Chase tells Luke, as she pulls Luke's cock out of Alissa's ass and puts it in her mouth! Cory sucks Luke's cock and then puts his dick back inside of Alissa's tight ass; then she begins to rub Alissa's clit while Luke fucks Alissa. While rubbing Alissa's clit, Sergeant Chase asks her "Are you going to tell on us or are you going to join us?!" Alissa tells her that she will keep her mouth shut… but she isn't fully convinced that she wants to join them yet… but Alissa doesn't want those blackmail photos getting out…! "Are you ready to seal the deal?!" Luke asks her. They make Alissa get down on her knees, with her hands tied in front of her and her tits exposed; Luke's cock explodes with cum all over Alissa's face and in her mouth… she swallows all of the cum that landed in her mouth! Now is she ready to join them, or will she allow those blackmail photos to get leaked….?!
Format: mp4
Resolution: 1920 x 1080
Duratio: 00:51:32
Size: 3060 Mb
https://sendurl.me/AzRMMblo/a_-_20048_Double_Justice.part1.rar
https://sendurl.me/ZzpXXd4z/a_-_20048_Double_Justice.part2.rar