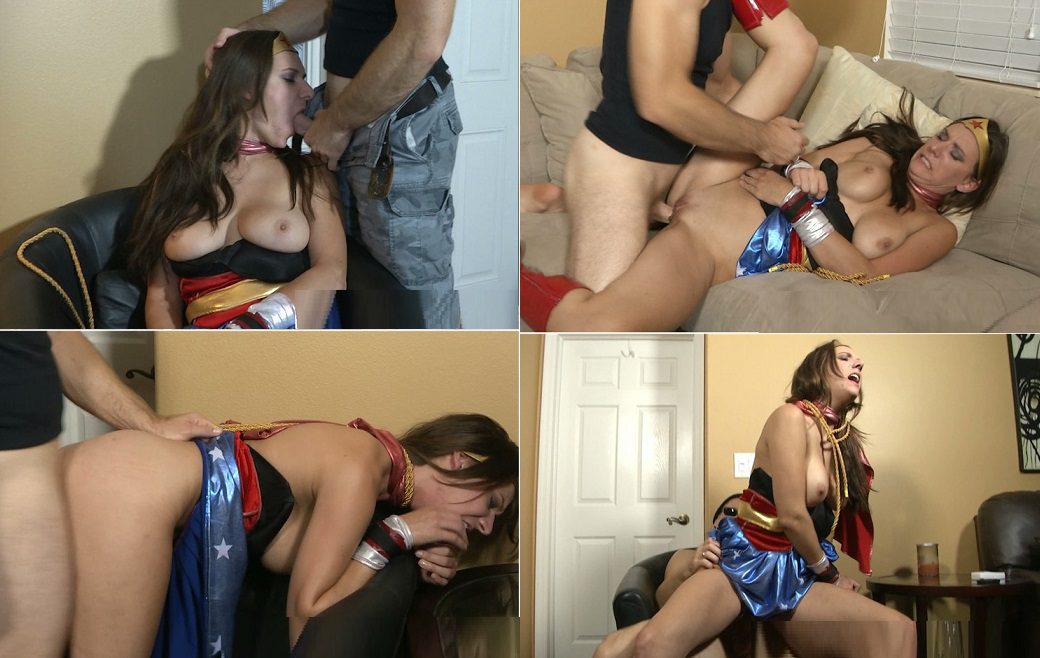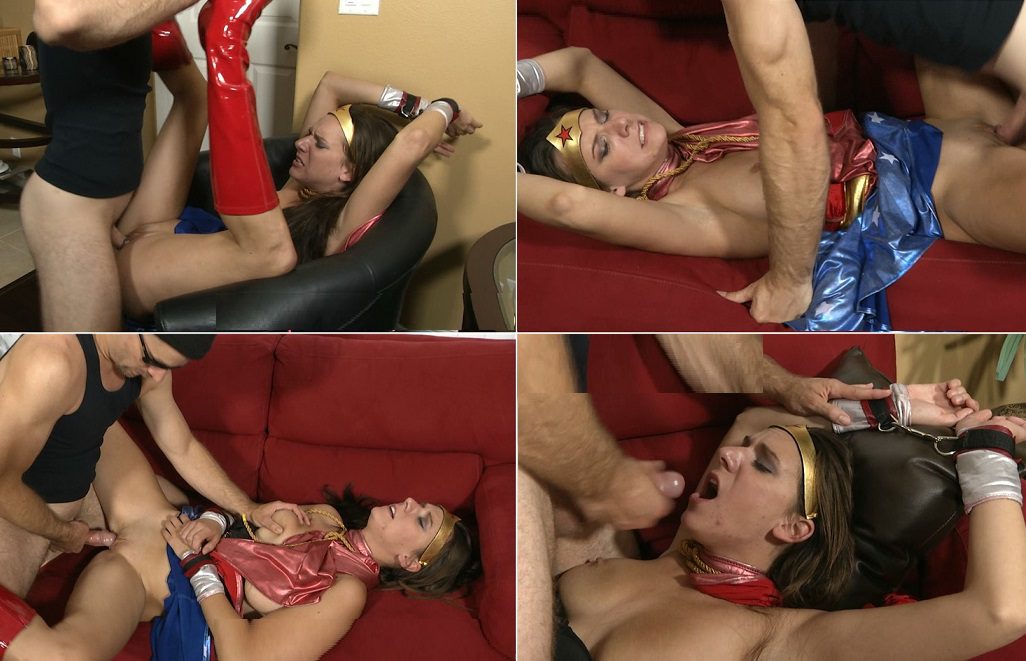 Added: 6/6/13
Backstory: Lady Venom has learned of a new weapon being developed by the Justice Council to rid the world of her venomous grasp. Leading the project is none other than one of her rivals: Wunder
Gurl. Lady Venom has dispatched one of her henchman to extract the weapon's location from Wunder Gurl..
Part 1: Evil comes knocking
Wunder Gurl is sitting in her living room, talking on her cell to another member of the Justice Council, discussing when to move the weapon for testing when she hears a disturbance at the front door; she excuses herself and ends the call to investigate. As soon as she opens the door, her head is grabbed and a cloth is thrown over her face; she attempts to struggle but is weakened by the chemicals in the cloth, allowing the henchman to force his way into her home! She struggles to get away and crawls to the couch however the henchman quickly bounces on her, pulling out his cock and jamming it down her throat. The henchman laughs as he interrogates Wunder Gurl as to the location of the weapon; too weak to speak, Wunder Gurl can only gag on the henchman's cock as he face fucks her over and over. The henchman decides to have a little fun with Wunder Gurl and proceeds to massage her body through her clothing before pulling out her luscious breasts and licking them. Wunder Gurl moans and attempts to plead for the henchman to stop however she is still too weak. Becoming bored, the henchman decides to continue the interrogation in another room…
Part 2: Full Body assault
The henchman carries Wunder Gurl into the small guest room and throws her on the couch, where he continues to face fuck her for several moments. Not being able to stand the urge anymore, he rips open the bottom of her uniform and begins to bite her clit; Wunder Gurl struggles and attempts to fight him off however she is still too weak to be a threat to the henchman. He climbs on top of her, guiding his cock into her warm, wet pussy and begins to fuck her viciously. Wunder Gurl pleads for him to stop however the henchman merely mocks her as he continues his assault on her body.
The henchman fucks Wunder Gurl in several positions, questioning her as to where the weapon is located however she still will not give up its location. The henchman becomes annoyed with his prey and decides to turn up the heat and continue violating her in her bed room!
Part 3: Haven violation
Wunder Gurl awakens standing and restrained; she is weak and grabs her head as she looks around confused. Before her eyes can focus, the henchman grabs her by the throat and demands to know the location of the weapon; Wunder Gurl attempts to fight him off and begins to get the upper hand when he squeezes her throat more tightly, causing her to lose all her strength. The henchman quickly takes the opportunity to wrap her truth lasso around her neck. He moves her to the chair and continues the interrogation.
The henchman grabs Wunder Gurl's hair and proceeds to fuck her viciously, mocking her as Wunder Gurl moans louder and louder. They switch positions several times until, against her will, Wunder Gurl moans loudly as her body forcibly orgasms. The sheer sound of her orgasm causes the henchman to laugh as he knows he is breaking her. Wunder Gurl attempts to catch her breath however the henchman proceeds to drag her out of the room to finish her off and get the weapon's location!
Part 4: Give in…
Wunder Gurl is restrained on the couch in her living room; the henchman stands laughing at her and taunting her to her weakened state and know she will give up the information. Wunder Gurl curses the henchman and is defiant until the henchman bites her double D breasts, injecting poison into her system, silencing Wunder Gurl and weakening her even more. He releases her restraints; the henchman wastes no time forcing his hard cock into her pussy and fucking her for several moments until he once again begins a full on assault of Wunder Gurl's body, forcing her to fuck him in various positions. The fuck until the henchman can no longer stand the sensation and grabs Wunder Gurl's head as she jerks his cock over her; releasing a loud moan, the henchman sprays stream after stream of hot cum in Wunder Gurl's mouth and all over her face. He uses his cock to rub the semen on her face as he asks one last time where the weapon is hidden. Wunder Gurl whimpers as she agrees to tell him the weapon's location…
Category: All sex, Fucking, xxx, Hardcore, Blowjob, SUPERHEROINES, BLOW JOBS, DAMSEL IN DISTRESS, damsel in distress, alora jaymes, super heroine, super heroines, Download Free Video.
Format: mp4
Resolution: 1280 x 720
Duration: 00:21:20
Size: 1.16 Gb
https://filejoker.net/p9dr0fzm8nf6/a_-_8643_Alora_Jaymes_in_Give_me_The_Weapon.part1.rar
https://filejoker.net/nf51qclhgdui/a_-_8643_Alora_Jaymes_in_Give_me_The_Weapon1.part2.rar