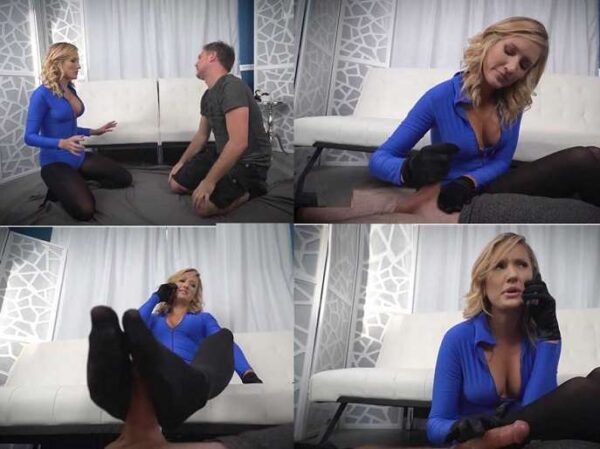 A step mom and her step son do not get along. The step Mom just wants her husband to kick the bucket already so she can get her money. The step son doesn't like his step mom because he knows she's just a gold digger, that's the only reason why she'd be with someone so old. What he doesn't know is what she's willing to do to get that money from the will…
The scene opens up with the step son playing video games, like he usually does. He's coughing a little bit and looks a little tired. He's drinking a tea while playing games. The step mom is stretching in baggy sweats and a sweater. She looks at her step son and asks if he can help her get a good workout. He agrees and his step mom says great, she's been taking MMA classes and wants to practice on him. She takes off her baggy sweats and sweater. She's wearing black shiny tights and a long sleeve shiny blue leotard. Her step son looks like he's getting excited and starts coughing more.
They begin wrestling a bit. His step mom gets him in headscissors with her legs and he begins coughing more. What's wrong? She asks him. I don't know, he says. Can't seem to catch my breath, as he's breathing heavily.
She starts rubbing the top of his head. Careful, she tells him. Seems like it gets worse when you get excited, are you getting excited, she asks as she pets his head.
She gets up and goes to her bag as her step son is laying down. She puts on black satin gloves.
She begins to rub his crotch over his pants. She tells him she hoped it'd be different this time, but looks like she was wrong. She knows he's been eyeing her this whole time, why deny this now.
She says she's surprised he's lasted this long, normally it works after a few seconds. She tells him she spiked his tea with something extra. If he gets too excited he'll get a heart attack. She can't let him get all the money once his step-dad kicks the bucket.
She says she knows what she can do. She unzips his pants and takes out his penis. He has a boner and she begins to give him a handjob with her gloved hands. She tells him not to worry, she wore gloves just for the occasion, no fingerprints. She begins to give him a footjob with her legs covered in black tights.
Her phone rings and she answers. It's her husband. She tells him she's just at home playing games with his step-son. She says he's been having a bad cough though and doesn't look to good. Might be that flu that's going around. She tells her husband to wait a second. She goes back to giving a handjob aggressively with one hand whole holding the phone up to her head with the other. She starts to talk excitedly and then he cums all over her gloved hand and slowly begins to close his eyes and go . "Yes!" She screams over the phone! Sorry, she tells her husband. We just got done. She tells him to hurry and come home, his sons going to rest on the couch now and he doesn't look to go.
She hangs up and looks down at her step son. She takes off her gloves, puts on her sweats and sweater and walks away.
Tags: Blonde, Handjob, Footjob, FOOT HUMILIATION, GLOVE FETISH, PANTYHOSE FOOTJOBS, Foot Fetish, Cumshot
Format: mp4
Resolution: 1920 x 1080
Duratio: 00:14:37
Size: 1272 Mb
aincest – 29753 Cruel Gold digger Takes out stepson with Handjob.mp4