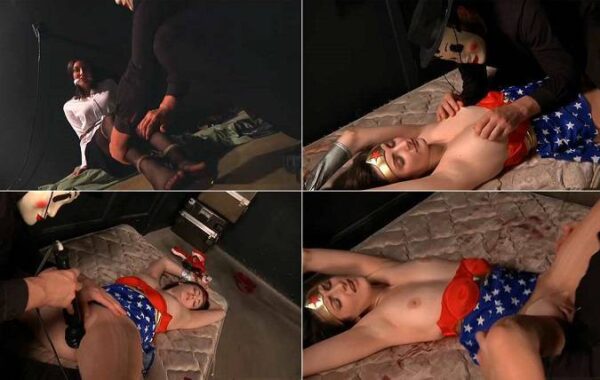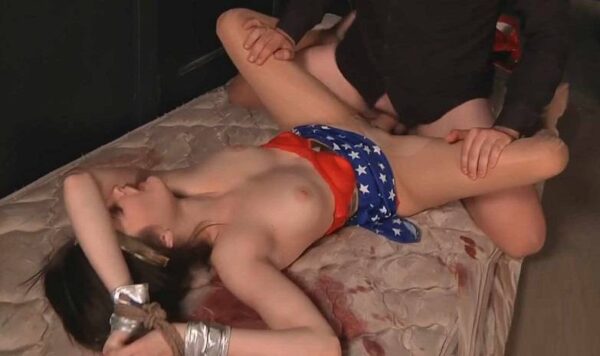 Reporter Sally Smith is at home working on her next story when she gets a call from an anonymous person offering her an exclusive interview with the villain Dollface, Sally quickly packs up her stuff and rushes to the scene. At the abandoned warehouse, there is not a soul in sight, she yells hello over and over when Dollface jumps out of nowhere and attacks her.
She wakes up bound and gagged with Dollface standing over her taking pictures, he says that he has posted the picture on a popular social networking site and directed it toward Wonder Woman, and she is sure to fall into his trap, but in the meantime, he figures he should have some fun with Sally and rips her nylons open and tickles her feet until she can't take it anymore.
At home, Wonder Woman gets the message and rushes to save Sally, she arrives at the warehouse to find no Dollface, but an open cell with a weak and bound Sally Smith inside, she rushes in and rips off the ropes holding her, when her bracers start to pull back, she doesn't know why they are doing it, and fights the magnetic pull dragging her to the cell door. As soon as her bracers touch the magnetic bars, she is trapped, and Dollface enters the room and pulls her down.
He tells her that he wants to play a game, she has 25 minutes to defeat him or he will destroy Miss Smith, Wonder Woman throws her up in a fight stance and rushes at him. She puts all of her strength and skill into fighting Dollface, but eventually loses, and he binds her bracers together, he starts by feeling her wonderful body, then as she starts to wake up, he decides he should torture her a bit by tickling her.
Format: mp4
Resolution: 1920 x 1080
Duratio: 00:29:47
Size: 1633 Mb