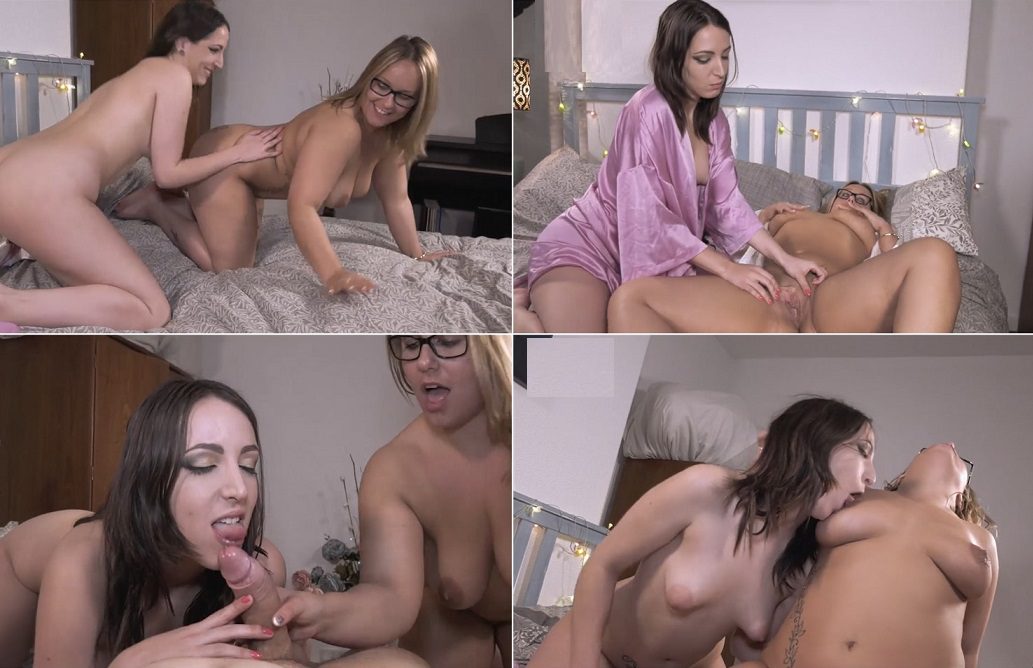 Added: 4/30/17 2:14pm
Liz Rainbow and Ashley Rider star in, Taboo Threesome: Sister, Brother, Girlfriend.
My girlfriend, Liz, and I, have been staying at my sister's place for the weekend. Ashley and Liz have been having a blast together, hanging out, grabbing drinks, hitting the shops, and pampering themselves. They've really bonded, which is so important to me. With Liz coming from Spain the last thing I want is for her to get homesick and feel lonely, so, I'm really happy when I see her make new friends and enjoying herself.
It's early evening and whilst I'm still out running a few errands, Liz and Ashley are back home, having a girly night in. Liz has tried on some new lingerie she bought this weekend, and, to make Liz feel more at ease, Ashley has dressed in her favourite lingerie set too. Liz is all too happy to show off her new sexy little number for Ashley, and Ashley is keen to put on a bit of a show for Liz. The two of them have obviously felt all sorts of connections over this weekend, because it doesn't take long for the two of them to start complimenting one another's breasts. Before long, the two of them are striping one another out of their lingerie and fondling each other's physiques. Things start to get heated and Liz moves in to kiss Ashley.
The two of them know it's wrong, after all, Ashley is my sister and Liz is my girlfriend, I mean, it's a bit taboo isn't it? But nevertheless, Liz's desire for Ashley is too much for her to handle, she wants Ashley and she wants her now. Ashley feels the same, and is happy to expertly pleasure Liz. In fact, the two of them are so horny for one another that they take turns making one another cum. Liz and Ashley use their fingers, tongues, and even scissor to bring one another multiple orgasms.
Liz and Ashley are lost in the heat of the exchange, in the heady throws of the a post-orgasmic daze, the two of them lose track of time and are a little surprised when I return home.
I have to confess, I was shocked when I saw the two of them in their night robes, I mean, it was pretty obvious what had just happened. It felt like Liz had cheated on me, but to do that with my sister just confused things. Was it really cheating if it was with another girl? Was it worse that it was with my sister? "What's your problem?" challenges Liz, "I was horny and you weren't here. Don't you think your sister's beautiful? Don't you want to see her naked body?"
Of course I do, but I'm conflicted, it is my sister after all. Neither Liz nor Ashley will hear any of it, they are in a hedonistic craze and are thirsty for more action. Liz grabs my hand and makes me run my fingers down my sister's legs towards her dripping wet pussy. My cock twitches and begins to grow. Ashley notices and grabs hold of it. She takes Liz's hand and makes her cradle me too. I'm looking down at my sister and my girlfriend gripping my throbbing cock, begging me to fuck them. "Why don't you get on the bed?" The horniness has gotten the better of me and I am naked and on my back within seconds. Now Liz and Ashley take turns pleasuring me.
From deep, wet, sloppy oral sex, to hard fast fucking, these girls make me feel very comfortable with the idea of fucking my sister. It feels so good, so much so that when Ashley asks me to cum deep inside of her, I do not protest. My sister grinds on my cock furiously, until she drains me of every last drop.
Related Clips
Threesome Taboo, Mom, Aunt, and Son 1080 HD
The Competition: Mom V Stepmom 1080 HD
Slutty Sister Fucks Brother for Creampie 1080 HD
Six Brother Sister Taboo Movie Pack
Categories: Sister and Brother, THREESOMES, SISTERS, BIG TITS, ALL NATURAL, POV SEX, liz rainbow, ashley rider, drl productions, forbidden perversions, taboo, threesome, creampie, pov sex, accents, sister, brother sister fantasy, big tits, curvy, big ass, Download Free Incest Video.
Format: mp4
Resolution: 1280 x 720
Duratio: 00:25:59
Size: 332 Mb
https://filejoker.net/saeu49e4e75m/a_-_10142_Taboo_Threesome_Sister_Brother_Girlfriend.rar