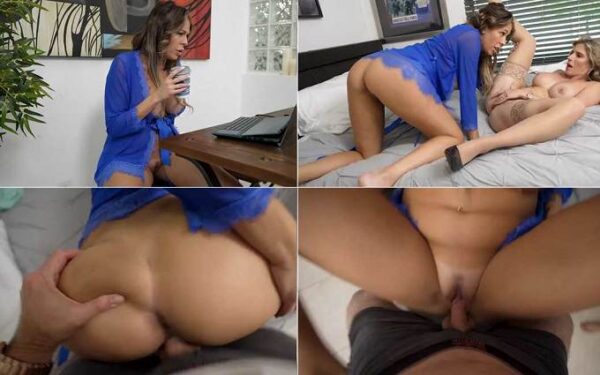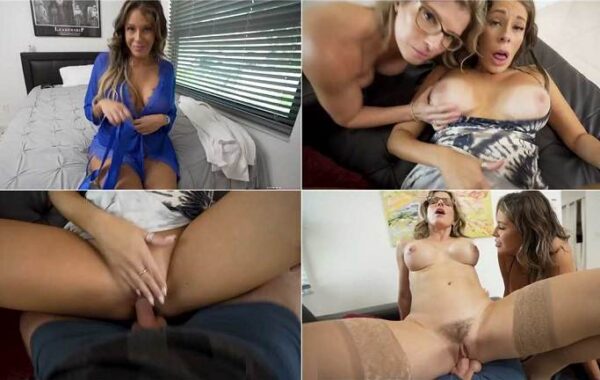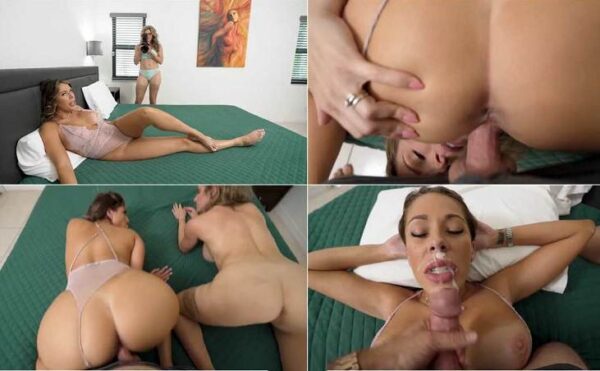 Coffee and Emails-
Nikki Brooks is wearing a blue bathrobe as she sits down in her kitchen and she begins to read her emails. Cory Chase walks in to the room and she tells Nikki that this is her last day in the Multi MILFverse, so she should go fuck Luke Longly and enjoy his cock today! But first, Cory wants to enjoy Nikki all to herself! They walk over towards a bedroom and they join each other on the bed. They start to kiss and lick each other's tits, before Nikki starts to eat Cory's pussy out. Nikki continues to lick and suck on Cory's pussy until she cums in her mouth! Then the two MILF's switch places and Cory starts to eat Nikki's pussy. After Nikki cums in Cory's mouth, Cory leans up and kisses Nikki on the mouth…
First of the Last-
Nikki and Cory are still fooling around on the bed when Luke walks into the room. Nikki is eating Cory's pussy out when Luke gets behind Nikki and shoves his cock deep inside of her pussy. He fucks her pussy in the doggystyle position while she licks Cory's clit. While Nikki is still eating out Cory, Luke walks over to Cory's mouth and he puts his cock in her mouth for a blowjob. Then Luke shoves his cock inside of Nikki's pussy while she's lying down in the missionary position. After a few minutes, Nikki flips over into the doggystyle position and Luke continues to fuck her pussy from behind.
Riding On The Couch-
I walk into the living room to find my step-mom eating out my step Aunt's pussy. I get behind Nikki and I start to fuck her pussy from behind while she continues to eat Cory out. After I fuck Nikki for a few minutes, Cory licks my cock clean. Nikki hops on top of me and she starts to ride my cock on the couch. I love watching Nikki's big tits bounce up and down while she rides me. When Luke is ready to cum, he explodes deep inside of Nikki's pussy.
Last Step Family Threesome-
Nikki pulls her panties to the side, so I can fuck her pussy from behind! Cory puts her face right under Nikki's pussy so she has a front row view of Luke fucking her. Then Cory and Nikki get in the doggystyle position, one right next to the other. Both of their asses are up in the air as Luke fucks Cory's pussy from behind first, followed by Nikki. After Luke fucks both of them, he has Cory lie down on her back on the bed. Nikki sits on Cory's face, while Luke fucks Cory's pussy. Then he asks Cory and Nikki to switch places, and he starts to fuck Nikki's pussy next. When Luke is ready to cum, he jerks his cock off into Nikki's mouth and all over her face! Now that Nikki is soaked in her step-son's cum, Cory kisses Nikki so they can share some of the cum.
This chapter of the Multi -MILFverse is now coming to a close, as Nikki moves on to new challenges and adventures. Nikki drives away while reminiscing about her time being a top MILF and a top step-mom. Luke then smirks at Cory, which makes us wonder what those two will be up to next in Season 2 of the Multi MILFverse…
Format: mp4
Resolution: 1280 x 720
Duration: 00:54:27
Size: 650 Mb
aincest – 40624 Nikki Brooks Cory Chase Free Use Multi MILF Vol 8 Forever.mp4