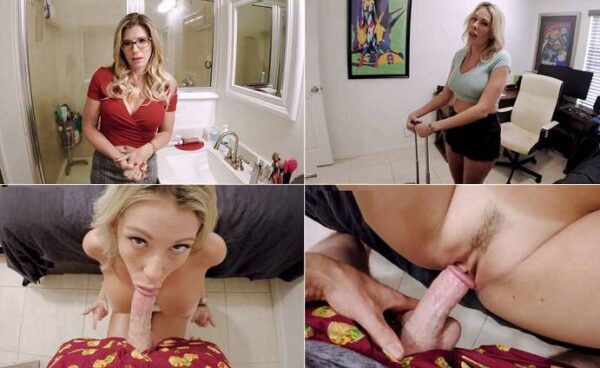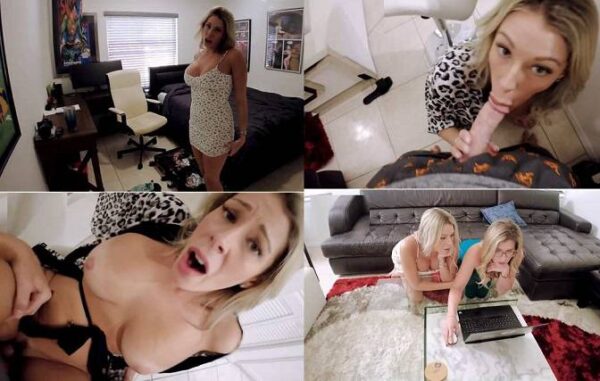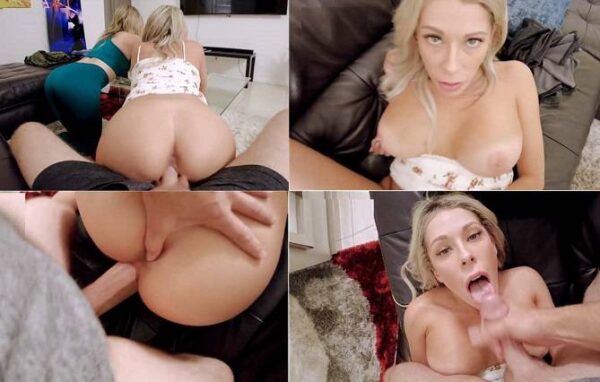 Nude Fashion Show – My Step-Mom Almost Catches Us
My Step-Mom calls me into her bathroom and needs to tell me something. She tells me her Step Sister Nikki will be staying with us for some time. Nikki is having trouble with her Husband and needs to stay with us. I am relegated to the couch and Step Aunt Nikki will be taking my room from me. I am not happy about this and have to clean up my room for Aunt Nikki.
Later that day Nikki shows up and she is really hot. I am still not happy about losing my room for a couple of weeks but she has some really nice cans. She might not be wearing a bra either, that is kinda hot.
Nikki makes herself comfortable in my room and sends Step-Mom away for a fresh glass of wine…then something odd happens. Nikki gets very aggressive and close to me, I try to leave but she promises to have lots of fun with me. For some reason keeps looking down the hall to see where my Step-Mom is…Turns out she needs my opinion on some outfits in her suitcase…She strips completely naked in front of me! I have not seen her since I was tiny and now she is fully naked trying on clothes!!! What a fun and flirty slutty Step Aunt!!! She sees I am excited and wants me to take her to pound town! She tries on one more dress and closes the door. I am so worried my Step-Mom might catch us but I cannot fight the urges to fuck my hot step Aunt!!!
There is a knock at the door and my Step-Mom walks in, I hide in the closet but Step-Mom does not catch us. So lucky! Nikki gets rid of my Step-Mom and pulls out my cock. What happens next is family history!
Breakfast Blowjob
I walk into the kitchen, Step-Mom is making some breakfast. She asks how napping on the couch was last night…It sucked of course! Step Aunt Nikki cums in and sits next to me. She immediately starts rubbing my cock thru my boxers. I am so worried Step-Mom is going to see. For some reason, Aunt Nikki is not concerned. Step-Mom has to leave for a minute and Nikki promises to watch the oatmeal. After Cory leaves, Nikki spreads her legs and touches her pussy. I am good and hard, Nikki drops to her knees and sucks my cock. Step-Mom won't be back for 30 minutes, her baths take the longest.
Nikki bends over the chair and I am about to stick it in when my Step-Mom comes back into the kitchen for some reason. Nikki is quick to get on her knees and suck my cock. Another close call but my Step-Mom has no idea. We do a quick fuck on the bar stool and drop a nice fat load into my Step Aunt
Step-Mom Does Not See Me Fucking Her Step Sister
Step Aunt Nikki and Step-Mom are trying to figure out what is wrong with a laptop. I sit on the couch behind them and Aunt Nikki keeps lifting up her dress showing off her delicious pussy. It's like she wants me to fuck her next to my Step-Mom. I am not sure about this but my boner is raging and Step Aunt Nikki is a horny house guest! How could I say no?!?!
I lube up my cock, quietly and efficiently then point it towards Nikki. She knows what to do, she backs up onto my cock and rides it back and forth while my Step-Mom has no idea what is happening. Step-Mom is so locked in on the laptop concentrating that she does not see me banging her Step Sister. This is both cool and hot. She takes it out and puts it back in, how does my Step-Mom not see this?!?! Not my problem I guess.
Step-Mom leaves for a bit to get something to help with the laptop, I take over and fuck Nikki on the couch, this time she wants something a little different and asks for me to cum on her face. This is totally cool and I cum all over her tongue and face. That is one huge load! I am going to really enjoy Step Aunt Nikki staying with us!
Format: mp4
Resolution: 1920 x 1080
Duratio: 00:48:06
Size: 1783 Mb
aincest – 33271 Nikki Brooks Free Use Step Family Horny House Guest 1080p.mp4