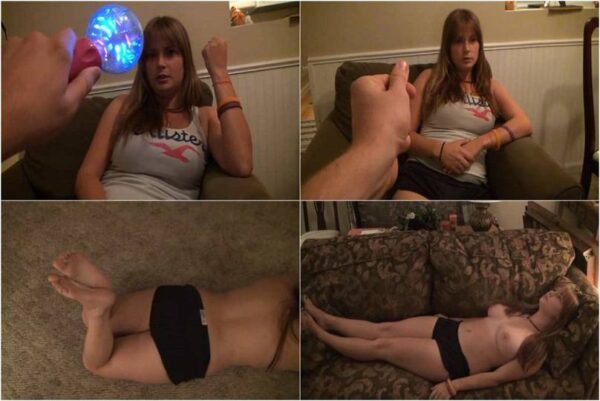 Jetta's boyfriend wants to play with her feet, but she won't allow it. He pulls out a spinning light device and mesmerizes her with it, making her totally agreeable to his demands. In her trance, she begins repeating mantras and chants given to her by her new master as she poses her feet in different ways for him. He commands her to remove her shirt and bra and walk mindlessly through the apartment while repeating more mantras, which she does in a sexy, hypnotized voice. She is ordered to lay on the floor and pose her feet for a more extended amount of time before being hypnotized once more, this time with a swinging pocket watch. As she sits indian style in a hypnotic daze with her arms stretched out in front of her, her master begins to rub her boobs and touch her as he sees fit. She is then ordered onto the couch for more barefoot, topless hypnosis fun!
Hypnotized by spinning lights
Extended foot fetish scenes, which include lots of posing and touching
Spends most of the video topless and in a trance
Hypnotized with swinging watch
Sleepwalking/zombie walking scenes
Repeats many mantras and lots of 'yes master' talk
Includes a separate bonus video featuring a different girl!
Format: mp4
Resolution: 720 x 480
Duratio: 00:14:27
Size: 141 Mb