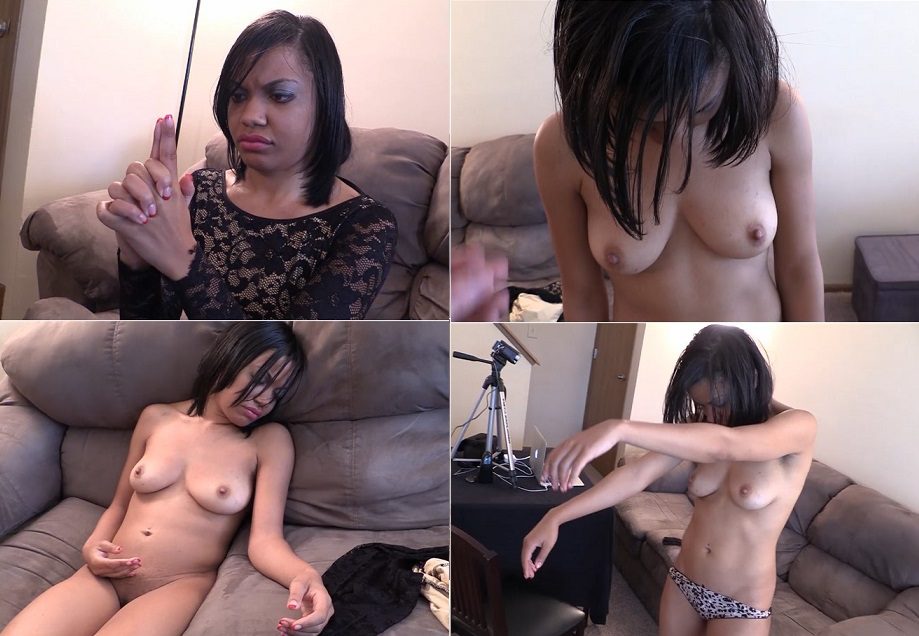 This is not a fantasy, story-based video. The hypnosis in this video is real. This is actually Monica's second time being hypnotized, although her first time with us. The entire session was captured from two separate camera angles. The editing has been kept to a minimum to allow the viewer to experience the session from beginning to end.
Monica gets hypnotized for the second time in her life during this session with our returning hypnotist, RHLOVER. The entire session was conducted online through the webcam, with Monica being guided into trance by the hypnotist, through visualization and relaxation techniques. I, of course, was in the room with her, filming and interacting as needed. Monica is easily dropped down (likely due to the fact that she's been hypnotized before) into a deep, relaxing trance during a lengthy induction that focuses on relaxation and obedience training. After establishing that she is deeply hypnotized and in a completely submissive state, she is made to refer to myself and the hypnotist as "master".
After Monica is deep in hypnosis and responding well to suggestions, she is given a trigger that will return her to trance at anytime. Some fun is then had with our hypnotized subject, as she is made to forget her own name, freeze and unfreeze on command strip nude, and fall into a hypnotic sleep when touched on the forehead. In her mindless and obedient state, Monica is also turned into a nude sleepwalker and made to repeat mantras while being felt up by her master. There are also fun moments where Monica is brought out of her trance to watch her attempt to work through her confusion when she discovers that she is naked, or that the session has already been underway.
Monica responded very well to the hypnosis, and describes the experience as being in a dream where it felt natural to obey her master's commands. She had an altered concept of time while under hypnosis, which seems to be a common theme with subjects who are deeply hypnotized. All things considered, it was a great session, and fun to see Monica react to suggestions while under hypnosis.
After the session, Monica is brought out of trance and the three of us briefly discuss the session in a follow-up interview.
Categories: Mind Control, Mental Domination, Woman Following Orders, Magic Control, Fantasies Control, Erotic Magic, Limp Fetish, Sleep Fetish, Robot, Hypnosis, Mesmerize, Hypnotic Sleep.
Key highlights of video include:
Pre-induction talk
Fingers stuck together
Arms made to feel as if attached to balloons
Guided into trance by hypnotist's voice and visualization
Taken into a deep relaxation
Given a trigger to return to trance
Awakened and dropped back into trance repeatedly
Taken through obedience training (made mindless and obedient)
Made to see myself and the hypnotist as her masters
Made to forget her own name
Given mantras to repeat and believe as truths
Sent to myself in a mindless and obedient state
Sleepwalking / zombie pose while repeating mantras
Given a "freeze" and "unfreeze" trigger
Brought out of trance, frozen and unfrozen
Made to take her clothes off when she hears the word, "hypnosis"
Given a trigger that puts her in a hypnotic sleep when touched on the forehead
Bare chest felt up while frozen
Put to sleep while standing up
Repeats mantras in her sleep
Made to remove her panties
Put into a sleepwalker pose while standing asleep
Made to fall back into trance when presented with a swinging pocket watch
Made to rub her breasts while mindless and entranced
Taken deeper as she focuses on her mantras
Wakes up and doesn't remember being hypnotized.
Thinks she is naked of her own choice, not knowing she was made to strip nude
Focuses on the swinging watch again, put back into trance
Brought out of hypnosis, allowed to remember the session
Explains how it felt being hypnotized and what the experience was like in a follow-up interview
Full nude
Format: mp4
Resolution: 1280 x 720
Duratio: 01:13:34
Size: 1.64 Gb
https://fboom.me/file/0df5977555f82/limp_-_0110_Monica_Jades_Hypnosis_Session.mp4