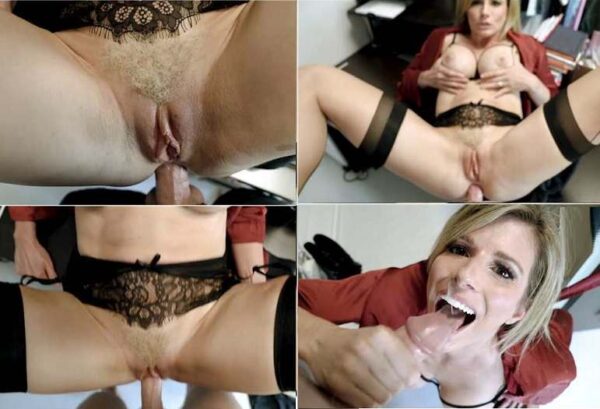 Online Fans Want More Anal Sex
"My fans loved our video! We need to film it again, sweetie!" my step-mom tells me. She opens up her red bathrobe, revealing black lingerie with black thigh high stockings. She pulls her big tits out and she starts to play with them in front of me. She hands me her cell phone and she asks me to record our sexual encounter so she can post it on her Social Media Account website. She gets down on her knees and she pulls my hard cock out; She starts to give me a blowjob next. She licks and sucks on my hard cock while I film it with her cell phone. She gets up and sits on the desk with her legs spread, waiting for me to fuck her now. I shove my cock in to her pussy while she stares in to the camera lens. Then she bends over on the desk and I fuck her pussy in the doggy style position some more. She spreads her ass cheeks open wide for me, and I shove my cock in to her ass next. I go back to fucking her pussy and then I switch back and forth between her ass and her pussy. When I get close to cumming, she jerks my cock off in to her mouth and all over her face!
Step Mom Caught Me Looking at Her Social Media Account
I found my step-mom's Social Media Account website on my cell phone, and I start to jerk off to her pictures on her website. My step-mom suddenly walks in to the room and she catches me jerking off! "I have an idea for how you can re-pay me for jerking off to my Social Media Account page for free!" she tells me. She slowly opens her bathrobe, exposing her older, naked, MILF body to me. She pulls my hard cock out and she tells me that we need to record our sexual interaction for her to post on her Social Media Account now! She gets down on her knees and she starts to suck my cock and give me a nice blowjob. Then she lies down on the couch so I can fuck her pussy in the missionary position. After a few minutes, I ask her to flip over in to the doggy style position so I can fuck her pussy from behind. She spreads her cheeks for me and her ass hole naturally gapes open, even without me fucking her ass! I guess my step-mom being a porn star has stretched out her ass hole! Based on how wide her ass hole is gaping on its own, I can't help but decide to shove my cock in her ass as well! My step-mom hops on top of me and she rides my cock with her pussy and then with her ass. I keep fucking her ass and pussy back and forth, in no particular order. My step-mom puts her head on the floor and sticks her ass up in the air, so I have a great view of her gaping ass hole and MILF pussy. I fuck both of her holes back and forth some more! I tell my step-mom to go back on the couch in the missionary position and I shove my cock back in her pussy while she grabs her big tits. I fuck her ass until I get close to cumming, and then I jerk my cock off in to her mouth and on her face. She swallows as much as she can; What a great step-mom she is!
Tags: blonde , step mom , pov sex
Format: mp4
Resolution: 1920 x 1080
Duratio: 00:55:29
Size: 3220 Mb
https://sendurl.me/AzRDnnL7/a_-_28839_Horny_Step_Mom_Uses_Me_for_her_Website_Full.mp4