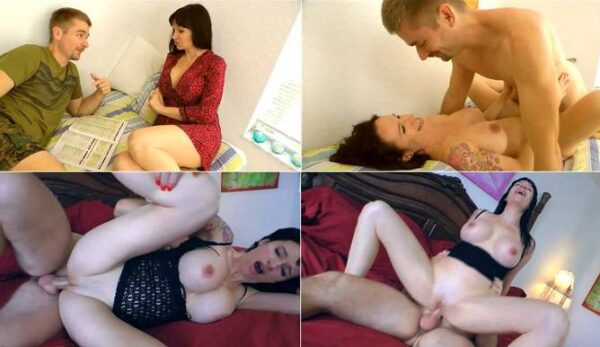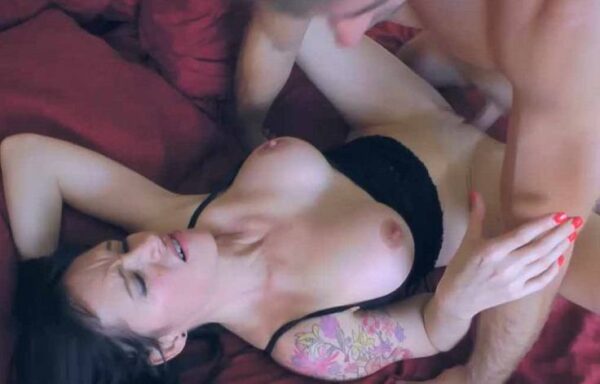 Video contains: 30 MINUTES! Step-Mom, Step-Son, Taboo, Forbidden Love, Blow jobs, Intense Multiple Position Fucking! Hair Pulling, 2x cum in Pussy, Final scene; Luke Sprays Moms Mouth and Face with CUM – and she lovingly licks it all up!
STORY SUMMARY: Scene 1,2,3 Erotic, TABOO Hard Core, 3 Part Mini Series! Hungarian, Sex Machine, Angie Noir has ONLY ONE MORE day to spend "QUALITY" time with her STEP-SON Luke before he gets married so they decide to ENJOY fucking in all their favorite spots in the house!
— Scene 1 —
Step-Mom Enters Luke's room to say good morning and he explains to her that he has some good and bad news for her. Good news is that he is getting married but the bad news is that he wants to be faithful to Cory so he can no longer be close to his Step-Mom. BUT he needs to have a bachelor party to get everything out of his 'system' and he wants STEP-MOM to be his Bachelor Party! Step-Mom is very excited to enjoy Luke's BIG COCK for one more day… They rush to remove their clothing and Step-Mom starts off by SUCKING HARD on his cock – using her Motherly mouth like a pussy and choking it deep into her throat! Step-Mom is dripping wet and needs that big cock head in her pussy – NOW – the fucking is intense and SO HOT – Step-Mom and Step-Son must get it ALL in today!
— Scene 2 —
Step-Mom and Luke enter the loft… Their favorite place to fuck each other!
Mom and Step-Son have a wonderfully close relationship that is about to change forever and they have no time to lament the future of the family dynamics. One LAST DAY to be together and enjoy life!
"Cum on honey! This is our favorite fucking place!" Angie wants Luke to hurry up and fuck her in their taboo spot!
Luke sticks his dick into Step-Mom "Do you like that Step-Mom? "Ohhh YEESSSSS!!!"
Luke wants to have Step-Mom in many positions in the loft room "Bend over STEP-MOM!" Okay Luke! "Fuck my PUSSY! Ohhhh YEAH!"
"Now CUM SIT on my cock…" "Ohhh GOD YEAH!"
"Fuck my PUSSY LUKE!" "That's my BAD Step-Mom!"
"Luke you Feel so fucking good! I am going to CUM again! Oh, I squirted all over you!"
"Lay down Step-Mom so I can cum in your pussy 1 last time in the loft!!"
After Luke fill Angie's pussy up he knows he must 'check in' with his fiance to be – Cory.
— Scene 3 —
Angie is in bed relaxing after having 2 beautiful and HOT fucking sessions with her Step-Son before he gets married and therefore committed. Luke enter Angie's bedroom with some wine and they toast to a great future! But before that future crashes their party – Luke wants Step-Mom to enjoy his sweet JIZZ one last time.
Luke hands Step-Mom her wine; "Tonight's the big night!" "Ohhh yes step-son…congratulations" "Good news and bad news…right step-mom?"
Angie lays down and spreads her legs for her Step-Son. Luke looks at his beautiful and loving Step-Mother and says; "One last time… I, I have a little bit of time left for us!" He enters her pussy while kissing her; "Luke, you know that I love that!"
He is fucking her and feeling her tight, wet pussy pulling on his cock; "I don't want to think about it… I want to enjoy your cock!!!!… Oh yes! Fuck my pussy!"
They change fucking positions many times trying to capture years of loving before it is all over but now Luke is nearing the end and he needs to CUM; "Suck it a little bit Step-Mom!" They take turns stroking his hard cock; "Oh yes! Give it to me!"
Step-Mom takes over for the final tasting of his hot sperm! "Ohhhhh yes! In your mouth step-mom! One… last… time…! I MADE A MESS OF STEP-MOM!"
They are relaxing after a beautiful day together when Luke asks; "What time is it?" Angie realizes he must go…she is proud of him! "Oh my god!!! Luke, You have to get ready!"
I WILL MISS EATING YOUR CUM! They are SO VERY HAPPY but also SO SAD this is the last day! OR IS IT?
Format: mp4
Resolution: 1280 x 720
Duratio: 00:32:28
Size: 487 Mb