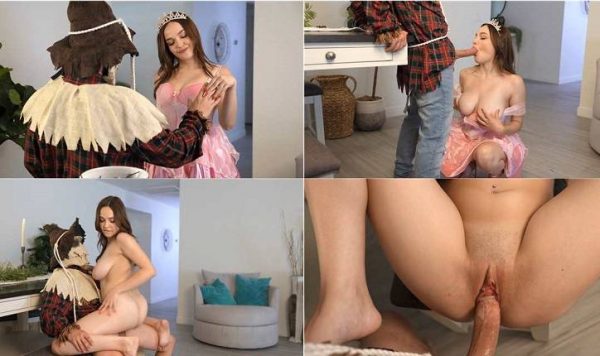 Spooky season is upon us, and Rissa May has the candy that goes along with it. She's just sorting through her haul when her stepbrother, Jay Romero, sneaks up behind her. Jay wants to prank Rissa, but he also wants to check out her ass. Rissa notices the spider and jumps, sending those DDs jiggling in her shirt. She tells Jay to cut out the pranks or he's going to get her pregnant…
Later, Rissa returns to the living room dressed as a princess for a Halloween party. She finds a real-looking scarecrow holding her candy. When she goes to take a treat, a hand comes out to stop her. Rissa says aloud that she should have known, but she keeps playing along while commenting that her animatronic scarecrow has a really nice boner. Moments later, she's on her knees stroking and sucking that hardon.
Rissa's scarecrow gets her on her knees to fuck her from behind, then takes a seat so Rissa can ride him while shoving those boobies in his face. Turning around, Rissa rides in reverse cowgirl as her breasts bounce to the same rhythm. When Rissa gets on her back, she spreads her thighs out nice and wide and begs her stepbrother/scarecrow to keep on pounding her pussy. Jay does as she asks until he blows a big load into that tight twat. Pleased, Rissa reminds Jay that she did warn him she'd get his cum in her cooch.
Format: mp4
Resolution: 1920 x 1080
Duratio: 00:26:47
Size: 1561 Mb