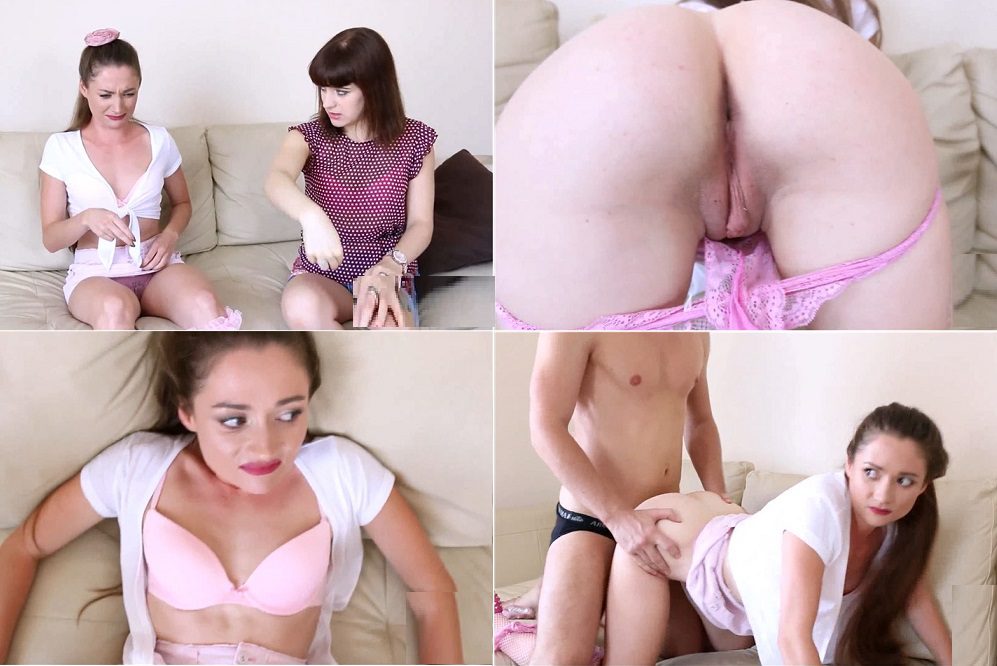 Added: 8/13/16 04:50PM
A bald young man dressed in a t-shirt and jean shorts argues with his sister, a long-haired brunette in short shorts and a purple top. She tells him that he needs to clean the garage, he's a lazy chauvinist who thinks cleaning is women's work. She tells him that one day he'll understand how difficult it is to be a woman and leaves. He goes to sleep on the couch. When he wakes up, he discovers that he's become a woman, with long brown hair and pink lipstick, but still dressed in his t-shirt and shorts. His sister comes home and demands to know who this woman is, but she eventually convinces her that she's her brother. The sister makes him undress and suggests that in order to change back, he needs to get an injection of male hormones through having sex with a man. She dresses him up in very feminine clothes, including high heels and a skirt, and encourages him to get to know his new pussy while they wait for her friend to arrive. Her male friend arrives, and the camera switches to first-person POV for awhile, while he fondles the brother's tits and fucks him doggy style and missionary on the couch. The brother is disgusted through the whole process, until the end when he begins to have an orgasm.
In this video: rough guy, his sexy sister, transfer fetish, man in woman's body, panic, shock, humor, desperation, revenge plan, slutty outfit for new "sister", fucking, awkward situations, POV.
He might not be the worst brother in the world but he definitely was not in the first 10. And his behavior was so rough! Always so lazy and so disdainful! He thought that women are the second grade! His sister was pretty tired of all this !
And who would have thought that when she told him that someday he will feel all on his own turned to be the curse! And this impudent guy will wake up in the … girl's body! Fuck! What a twist! No balls, no dick just pussy and tits! Aaaaa-aaa-aah! That was a disaster! What to do?! How can he live now in the girl's body?! He inspected the body again. No, nothing changed. Pussy with trimmed pubic hair and cute tits. Did I called them "cute" already? Gosh!
The moment his sister came back probably was the hardest time in his, oh, I'm sorry, in HER life! But the newborn girl proved that it was her brother inside this shell! And the sister decided not to miss her chance! You know what I mean! The sweet revenge for all these years! Finally!
She told him that to get his old body back he need to add some male hormones inside! Sounds logically, isn't it? Well, wait when she will finish! So to get some male hormones he, yes-yes, she must be fucked by a guy! Cruel enough, hah?! The poor girl had no choice and agreed.
The new outfit was just perfect! It was not possible to find more humiliating clothes! But of course it was not the end of the torturing! She was told to rub her pussy to warm up before her first (and she was praying last!) sex in this body. That moment the lovely sister called her friend to ask for a little service…
She was surprised to feel the thick cock inside her tight pussy and was not ready to be fucked like a doll! But later she felt that was ready to explode…
Categories: GENDER TRANSFORMATION, EROTIC MAGIC, TRANSFORMATION FETISH, HUMOR, TRANSFORMATION FANTASIES, magic, female training, panic, crossdressing, using body, tits, two girls, gender, forced orgasm, male domination, sheer lingerie, liza k. fetishes, fantasies, tia flame, liza k, Sister, Teen, Small Tits, Big Ass, Roleplay, Amateur, Parody, Male Domination, Female Domination, Humiliation, Rough Sex, Blackmail, Netorare, Cum in Pussy, Stockings, Cum in Pussy, Creampie, Swallow, Download Free Incest Video.
Format: avi
Resolution: 1920 x 1080
Duratio: 00:25:33
Size: 962 Mb
https://fboom.me/file/34a93a979cf4c/aincest_-_10137_Revenge_From_Bad_Guy_to_Worse_Girl.rar