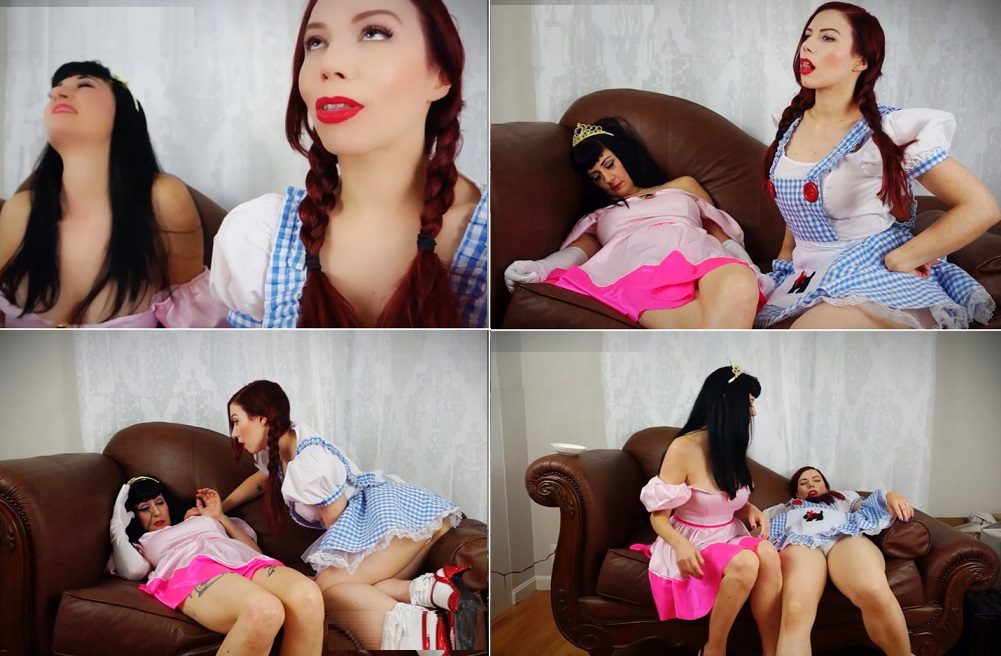 Added: 11/3/16
Trick or Sleep! –
Nyxon is mad that she had to stay home and hand out treats to trick-or-treaters while her sister Ludella got to go out and collect candy. She knows Ludella is a brat and won't share anything, and of course all the other candy is gone…but she has a trick up her puffy princess sleeves. That's right…she used her time at home to concoct some magic candy with a sleepy potion inside. She'll put her sister to sleep and take all the candy for herself. It's quite easy to convince a sweet tooth like Ludella to try a taste.
"Wow, you could be a candy maker…or…something…this…is…really tasty…" Her eyes roll and she has trouble keeping them open before falling back limp on the couch.
"Haha! It worked! Look at this…you're like a wet noodle…" She waves Ludella's arms around, letting them plop down limp like a ragdoll. "You're not in Kansas anymore, Dorothy. Haha!" After playing with Ludella's limp body, Nyxon hides the candy…and then she decides to get some revenge on her ragdoll sister, plopping her over onto her lap and spanking her big bubble bottom. After a bit of this though, Ludella wakes back up. "What happened?"
"You must have had a sugar crash…" Nyxon says suspiciously.
"Did you…did you…put something in that candy? Hey! Where's MY candy?" Ludella searches frantically about, discovering it. "Ha! Well, if you didn't put anything in it…then why don't you eat some yourself?"
"Um…I ate a bunch while making it?"
Not satisfied with Nyxon's haphazard answer, Ludella puts the candy close to Nyxon's mouth, trying to force it inside…and after getting it in, she puts her hand over her mouth to force her to swallow it. "Down the hatch! Come on!" Nyxon swallows and her eyes start to roll as the magic takes hold. "There you go…fast asleep…" Nyxon falls back limply on the couch. Now, Ludella has a chance to get revenge on her sister's limp body, playing with her limbs, peeking at her panties, and moving her ragdoll body around, doing impersonations of her sister.
Eventually Nyxon wakes up though with all the movement and is angry that her plan didn't work. Her sister has all the candy again and is refusing to share. "I'm going to count all this to make sure you didn't steal any…" Ludella begins counting, so engrossed in her candy that she doesn't notice Nyxon has a handful of her special candy ready to shove down her throat. She plugs Ludella's nose to open her mouth and shoves the candy into it, putting her hand over her mouth. Ludella's eyes begin to roll from this massive dose of candy and soon she falls limply backward. Nyxon poses her sister with her big butt sticking out and he panties showing, then sprinkles candy all around her to make it look like she from too much candy…which, I guess she technically did… Then she grabs Ludella's pumpkin pail and saunters off joyfully, her plan having worked out successfully after all.
Happy Halloween!
Categories: Halloween, Sleepy Potion, Sisters, Costumes, Limp Fetish, Hand Over Mouth, Eye Crossing, Eye Rolling, Limb Manipulation, Limp Play, Upskirt, Panties, Spanking, Redhead, Pigtails, Curvy, Big Butt, KO, Bare Legs, Calves, Ankle Socks, Dorothy, Princess, Magic, Ludella Hahn, Nyxon, Contains NO NUDITY, Download Free Incest Video.
Format: mov
Resolution: 1280 x 720
Duration: 00:12:50
Size: 281 Mb
https://filejoker.net/exhy02dy6d0w/a_-_9192_Sister_Sleepy_Potion_Halloween_Limp_Play.rar