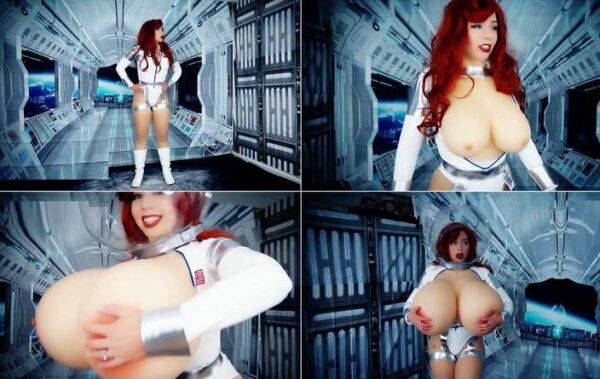 off camera pop, massive cleavage, joi encouragement, anime boobs
Clip Contains: Breast Expansion, Body Inflation, Growth Fetish, HUGE Tits, Multiple Expansions, Captain Hahn of the X-Plorer is Having a Bout with Bad Luck When Her Ship Crashes, Air Pressure Changes Cause Her Boobs to Inflate Bigger and BIGGER, Needs to Warn Her Crew About the Issues But Is Too Embarrassed Since Her Boobs Won't Fit In Her Uniform Anymore, Struggles to Squish Them Into Her Uniform, but Then They Inflate Evan BIGGER, Gets Super Turned On By Her Massive Bimbo Tits, Boob Bouncing, Curvy, Cartoon Curves, Anime Boobs, Jessica Rabbit Curves, Big Erect Nipples, Massive Cleavage, Tit Play, Tit Dropping, Moaning, Heavy Breathing, Keeps Talking About How Wet and Horny She Is and How It's Been Way Too Long Since She's Gotten Some and Wants to Enjoy Her Massive Tits While She Has Them, Says She'll Bang the First Crew Member that Comes In, POV Shows Up And Ludella Struggles to Hide Her Big Boobs But Eventually Gives Up When She Sees the Air Pressure Has Caused Some MASSIVE Inflation in POV too, Gets Super Horny And Offers to Help POV Ease the Pressure with Her MASSIVE TITS, POV Grows Even Larger and So Does Ludella, Says She Feel Like She May POP, Her Breasts Grow Even BIGGER While Moaning From the Growth, Encourages POV to POP with Her, Off Camera POP with Climatic Moaning, Sound FX, Practical FX, Ludella Hahn, Contains "TOPLESS" NUDITY
Things are not going well for Captain Hahn and the X-Plorer. They've been experiencing a series of technical difficulties, but she's hopeful since they still appear to be staying on course…until…CRASH! The ship shakes from the impact, causing Ludella to stumble. When she regains her footing, she tries to re-establish communication with Ground Control, but all she can hear is static. They've lost that, too. And as she realizes that she and her crew are now entirely on their own in the midst of this madness, a new alarm starts to sound from a change in air pressure.
She needs to put on her helmet for oxygen and go warn the rest of her crew, but before she gets a chance to, her tits start to inflate right out of her uniform. Gasp! "What the–did my…did my… Oh no! The change in air pressure must have caused my tits to expand! They won't even fit inside my uniform anymore…" She struggles to squeeze her new H Cup tits back into her leotard (jumping up and down, squishing them this way and that), but they're just TOO BIG! No matter how much she squeezes, and squishes, and moans, she just can't seem to get them back into her uniform.
"Goodness! Oh, what am I going to do? I have to warn the rest of my crew about the change in air pressure in case it causes any more unusual effects, but I can't exactly approach them like this…Ohhh!" She gives one more attempt to squeeze them in and gets them most of the way, though her nipples keep popping out. "Good enough…" She asserts, putting on her helmet. But as she does, her boobs start to inflate EVEN BIGGER!
She stares down at them with big eyes as they continue to inflate. "Oh my! They're getting…HUUUUGGGE! Holy Moly! My tits are the size of planets now!" She bounces them up and down, suddenly distracted. "I never thought I'd have boobs this big… This is insane! All because of a change in air pressure? They're so…BIG…and soft…and juicy…" She moans, biting her lip. She can't help but to play with them, and she decides she might as well enjoy them a bit in case the air pressure changes again. She bounces and squeezes them, moaning in pleasure when she pinches her big erect nipple. And she realizes how horny and wet these massive tits are making her.
"Ohhh…with how I feel right now…I don't care if it's wrong, I would probably bang the first crew member who walks in. I'm so…horny…" She moans breathily. And right then, the door opens to POV. Ludella gasps and tries to cover her massive boobs, but they are too big and she struggles to get her arms around them. She's a bit embarrassed to have been found in the throes of passion with her massively inflated breasts, and she tries to explain about the change in air pressure causing the inflation when she looks down and sees that POV has experienced some MASSIVE INFLATION of his own.
"Oh my…" Her eyes go wide. "You're HUGE!" She comes closer, bouncing and squeezing her big tits. "You're so BIG…and SWOLLEN… Mmmm… Let me take care of that for you? Let me ease the pressure…" She moans. "We might as well take advantage of my massive tits while I have them…Mmmm…." She bounces and squeezes her luscious planets in his face while she breathes heavily and moans. And then POV's member begins to inflate again. "Oh my! You're getting BIGGER!" She moans, wide eyed. And then her tits begin to inflate even BIGGER, too.
"Oh my! Oh my! I might BURST if I keep inflating!" She moans as her boobs continue to grow. "I may…POP!" Her tits bounce and heave as they continue to inflate larger and larger. "Oh, yeah!!! Let's POP together!" She moans out as the pressure increases. "Pop! Pop! Ohhh POP!" She moans, and as the camera exits the corridor, we can hear Ludella's climactic pop. And I guess the question now is, so long as they're lost in space…how much MORE will they inflate?
Format: mp4
Resolution: 1920 x 1080
Duration: 00:12:56
Size: 304 Mb