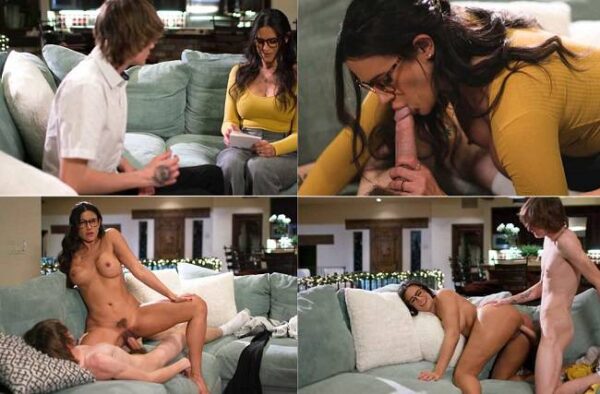 Penny Barber is helping her stepson, Spikey Dee, practice for a spelling bee he will be competing in shortly. Penny checks the index cards with words provided by the school, and is surprised to see that the first word Spikey has to spell is 'vulva'. Spikey doesn't know what that word means, so she explains it to him, which causes him to get slightly flustered. But he spells it successfully and they move on to the next word.
The second word Spikey has to spell is 'cunnilingus', which shocks Penny due to its explicit nature. What kind of spelling bee IS this?? Though Spikey doesn't initially know what 'cunnilingus' is, he grows even more flustered once Penny explains it to him. He tries to spell it but ends up struggling, so Penny tries to help him. However, things get even more awkward when lingering on the sexy word causes Spikey to get an erection!
Spikey is now worried that he'll end up getting an erection during the ACTUAL spelling bee, which is being held in front of the entire school. Penny offers to help Spikey relieve his sexual tension by having sex with him. If he 'empties the tank', he won't be as horny during the actual spelling bee, right? Spikey accepts, so Penny has energetic sex with him to make sure he'll be all set for the spelling bee. Helpful stepmoms are the best!
Format: mp4
Resolution: 1920 x 1080
Duratio: 00:30:13
Size: 1155 Mb