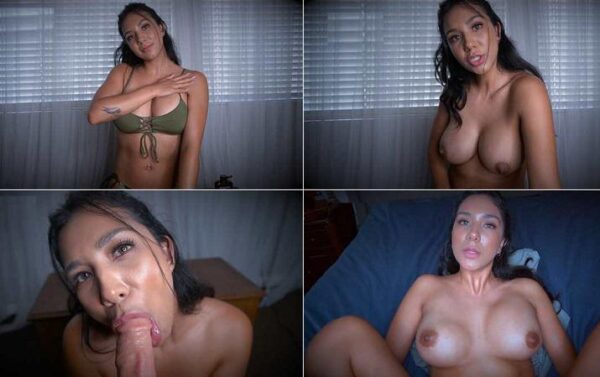 Watch as your step-daughter confronts you about you, her step-dad, having sexy photos on your phone. Her step-mom, your wife, told her about it and you are both shocked and disgusted. Your step-daughter goes into the house to talk to you about it alone.
Your step-daughter comes into the room putting oil on herself acting like nothing happened. She teases you asks if you like what you see and asks if you would maybe like a picture… you're caught off guard but you don't say anything. She continues to oil herself until she asks if you could help her apply some on her back. She teases you about her tan lines and if she should take off her bikini, half-serious/half-joking. She starts being extra sexy by tugging on her bikini straps and moving her tits up and down. Out of nowhere she finally asks you why the fuck you have sexy, stolen photos of her! She is upset and can't believe that it's true! She is so shocked and upset at you. You apologize profusely and tell her that her step-mom doesn't have sex with you anymore. She is still furious but starts to slowly feed bad for you and beings to tease you again after she asks you to show her what you do with the photos of her. She finds a special photo that shows off her tits that was only meant for her husband. She realizes that you especially love her big tits. You start jerking your cock to her as she's asking you all kinds of sexy questions and comparing her body to her moms. There's no question that your daughters is so much sexier and more fuckable. She starts having second thoughts about teasing you but eventually she decides to help you out just once to get it out of your system.
She reveals her incredible tits, spending lots of times talking dirty about being step-father/step-daughter. She gets completely naked and teases you with her ass too. She asks if you like her brown nipples, which you do because they remind you of her step-mother. She starts getting hornier and she asks you to put your cock in her mouth. You can't believe she's actually giving you a blowjob. She has an idea to give you a titty fuck because she knows that step-mom never does that. During the titty fuck she gets a phone call from step-mom about why it's taking so long to have this conversation. Her and her husband are waiting outside for the both of you! She hangs up quickly and keeps her attention on you.
She asks you if you would actually fuck your step-daughter to which you answer, yes. She lays down in missionary position in front of you and spreads her tight pussy for you. You start pounding the fuck out of her and make her cum within seconds. She tells you that she wants to ride your cock so that her tits can swing in your face as she fucks you. She teases you about you cumming in her mouth or her pussy but ultimately she knows that you want it all over her tits… enjoy me, xo
Format: mp4
Resolution: 1920 x 1080
Duratio: 00:34:55
Size: 2.49 Gb