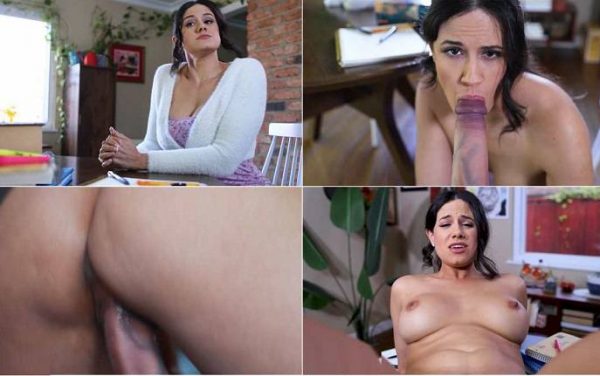 When your teacher sends you home with a study aid in the form of a mysterious pill, I'm absolutely shocked to find that it isn't helping you focus at all. Instead, you just keep getting hard and shooting loads of cum all over stepMommy's nice, clean kitchen! Of course, when I see how massive and perfect your cock is, I can't resist offering to help you deal with your distracting erection myself, making you come all over my tits, in my mouth, and inside my warm, wet pussy.
Play-by-play description:
I just got off the phone with your teacher. She says you're failing, which means you've been LYING to me — your stepMOTHER! She told me that she sent you home with a study aid, some sort of a pill? Well, take it and get to work. I'll come check on you in a couple of hours.
When I return to check on you I notice you haven't accomplished anything. What have you been doing out here, masturbating? Oh, you have. How many times? And you're still hard? What was in that study aid?! Maybe you're doing it wrong. Let stepMommy help you.
I'm floored by the size and beauty of you raging hard-on and stroke it nervously under the table at first. It feels so naughty to do this, but I do want to help you focus on your studies. I take my breasts out and tease my nipples while increasing the pace of the handjob. How about you finish in stepMommy's mouth so we don't make a mess. I blow you like you've never been blown before, taking your big dick deep in my throat, rubbing it all over my by big sensitive MILF tits, and licking and sucking you balls until you ejaculate so much cum into my mouth that I can't swallow it all. Alright, we've had some fun, now get to work and I'll bring you a snack.
Your boner is back the moment I return again. Looks like what you really need is to come in a pussy. I strip naked and make my pussy super wet by masturbate to a squirting orgasm in front of you, then I mount your monster cock right in the chair. With my big soft tits bouncing in your face while I cum like a desperate slut on your perfect dick, it's only a matter of time before you fill my pussy with cum. But you don't get soft at all! I climb up on the table and beg you to fuck me while your cum is still inside. I come again as you rail my wanton pussy until you explode inside me one more time.
Looks like that finally did the trick. Now get those grades up and be sure to bring home more of those study aids.
Format: mp4
Resolution: 1920 x 1080
Duratio: 00:38:46
Size: 1161 Mb