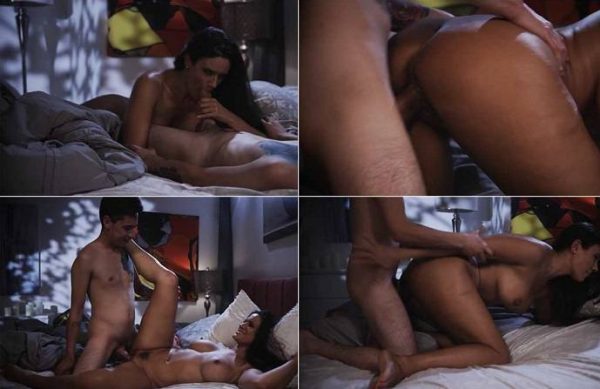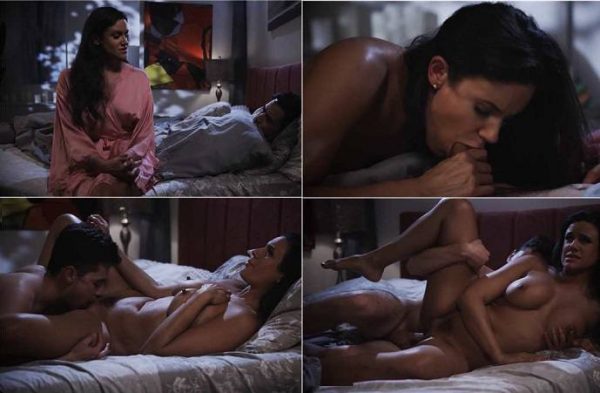 Juan (Loco) is watching his stepmom (Penny Barber) doing stretching exercises on her yoga mat, and he's eager to please, fetching her a towel and a glass of water. Then, as they chat on the couch he wonders if there's anything else he might do for her, and she says cryptically: "You're not ready yet".
"Ready for…?", he wonders. "You're so young -you're just a boy. You're my angel", she says. He keeps pressing her, anxious to please mommy. "What I need… is a man", she finally admits. But she won't explain, just keeps leaving his questions unanswered. Finally, she's saved by the doorbell -It's off on an impromptu date for mom, not even bothering to change her clothes after exercising.
Later, Juan is alone, drinking a few beers, texting mom, worried that she hasn't returned home yet, and the dinner he's prepared is getting cold. He's in bed when he finally hears her arrive after 1:30 in the morning, He's jealous -she was out with Clint, a guy he knew in high school. As he goes back to sleep, mom enters his room in her pink robe and sits on his bed next to him. "Do you know how hard it is being a woman?", she asks, rhetorically. "Sometimes I just want to be worshiped, pampered", she notes.
Juan complains about how much she frustrates him, and Penny gets the picture. "Do you think about mommy when you touch yourself?", she whispers, and he begins stroking his cock under the blanket. She asks Juan to show her, and then gazes intently as he pulls back the blanket and continues masturbating. She kisses him on the lips and takes over stroking his cock.
Soon she removes her robe, exposing her big breasts, and then sensually sucks his cock. Juan goes down on mommy and then begins fucking her. Watch their lengthy taboo sex scene unfold…
Format: mp4
Resolution: 1920 x 1080
Duratio: 01:02:37
Size: 863 Mb