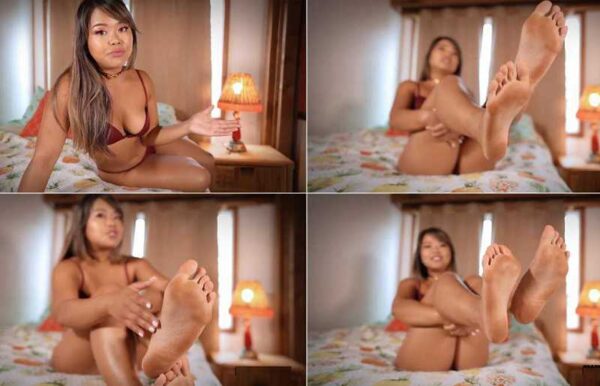 Your step-mommy needs to have a talk with you, so she calls you into her room. She's noticed you've been struggling lately, with all your urges suddenly coming to bloom. She questions you until you reveal you have an attraction to women's feet. You expected her to react strongly, but she says she understands, and that people have all sorts of attractions. However she's going to need to test you first, so she orders you to strip and kneel on the floor.
Now that your kneeling, she lifts her feet up right in your face. Don't worry boy, this is what you need, and it becomes really apparent from your hard little penis. Her feet are dirty even, so you must like that too huh? She says you're obviously attracted to them, but maybe you should try kissing them too.. Yes she knows they're really dirty but it's not going to hurt you
She seems to like having her feet kissed too, and instructs you further on how to clean them and admire them. She know's in order to let you leave the nest and meet women, she's going to have to train you how to properly serve their feet. What is it? Oh you feel like you're going to explode? Well don't hold back she says. Yes she will like this arrangement and you will learn to be her proper foot servant!
Tags: foot tease , step-mommy domme , femdom pov , female domination , slave training , pov foot worship , dirty feet , dirty soles , wrinkled soles , taboo
Format: mp4
Resolution: 1920 x 1080
Duration: 00:11:00
Size: 645 Mb
https://sendurl.me/j7lApb0o/a_-_28275_Mommy_Treats_Your_Foot_Fetish.mp4