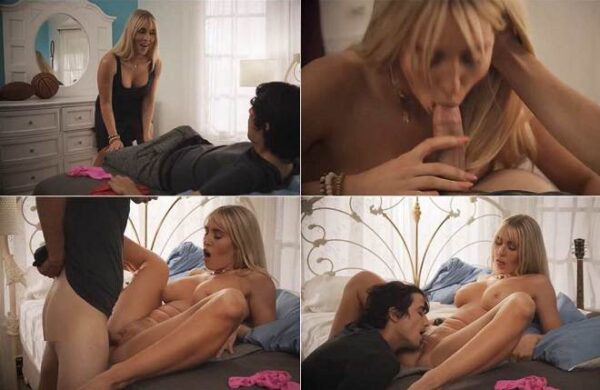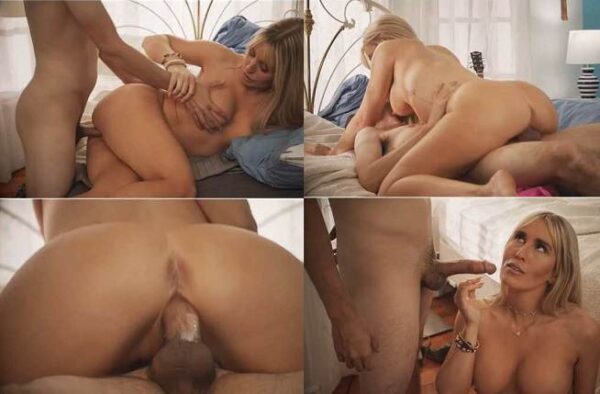 "Why? They're beautiful", Ricky declares. "They're just too risque. It's not me anymore", she replies. "If I were you I'd have these framed up. These look so powerful, like the goddess of sex", he enthuses. Another interruption by her phone ringing and Ricky plans to climb out the bedroom window. "No, you're not going to go out of the window. You're going to get hurt. You just need to get rid of it", she says. "What am I going to do?", he asks.
"Sit down", she orders, pushing Ricky onto the bed, and handing him the panties and calendar. "You want me to jerk off, in front of you?", he asks, astonished. "Yes. I can assure you, there's nothing you have that I haven't seen before", she asserts. "I want you to jerk off to the panties that I'm wearing", she announces and starts dancing sexily in place. "I'm so happy to have you dance for me", he remarks. "I'm not dancing -I'm helping you out. I'd be devastated if I didn't have my son here in the house with me", she confesses.
As she dances, she starts giving instructions: "Stroke it for me". Eventually she removes her shoes and sits down across his groin, giving him a lap dance. "Is this what you're thinking when you jerk off to me in your dream?", she purrs. "Do you want to see mommy undress?", she asks. "Yes please, I promise I'll come right away", he declares. She starts a slow striptease, removing her dress. Ricky takes off his pants and reveals his big dick, resuming his stroking. She removes her panties and hands them to him. He unfastens her bra and she leans toward him, but they're suddenly interrupted by the noise of daddy at the door, rapping and yelling "Open the door!".
"I'm actually not feeling well. Can I talk to you later?", Ricky yells, coughing a bit. "That sounds like a weak cough. Just let me in", daddy insists. As Ricky stalls, daddy asks: "Where's your stepmother? She's not answering the goddamn phone". "I think she went out for a jog", Ricky answers. "Well, come down stairs when you can", daddy relents. "Oh my God, he's going to kick me out. He's going to end me", Ricky says to her. "Mommy's here to take care of you", she says sympathetically.
"Just relax. I'm going to kiss you down there like I kiss you on the cheek, okay? Let's go ahead and handle the boner problem", she says, taking his cock in her mouth. Watch the taboo scene unfold…
Format: mp4
Resolution: 1280 x 720
Duration: 00:45:20
Size: 403 Mb