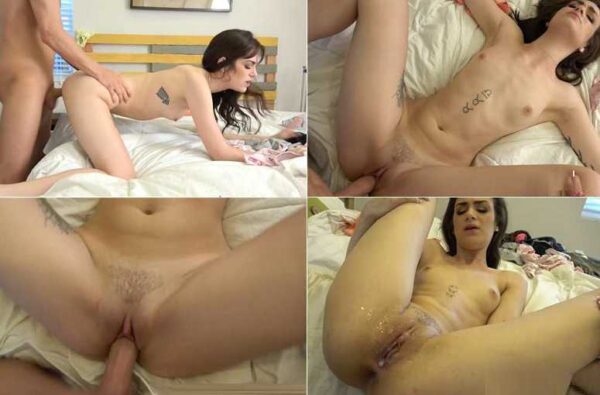 I sit here completely bewildered as my younger step-sister pulls down the top of her dress. Is this really happening right now? Is it weird how turned on I'm getting? She shows me her naturally perky boobs and I tell her there is nothing wrong with them! But Step-Sis is convinced that she is far from perfect.
She grabs my hand and places it over her chest telling me feel for myself.. But this is only making me grow harder. I find a way out of the conversation and leave the room. We can't do this, not again. She's my step-sister!
Family Manipulation

A few days late I catch Step-Sis trying to douche in the bathroom. Something is up, I've never seen her like this before. I try to talk her through on how to use the douche, but she stares at me completely confused..
Look I'll just show you..
Thank you, I know this is probably gross..
That's ok step-sis, I've had girlfriends before, this isn't anything new for me
I squeeze the douche into my step-sister's pussy and watch as the water splashes out of her.. Something about seeing her pussy push out the liquid had me so turned on.. I lost total control of my brotherly insticts and went in to kiss my step-sister..
She kissed back and I went for her pussy.. I finger her freshly clean snatch as she reaches into my pants and starts jerking me off.. We sneak back into her room, hoping Step-Mom and Step-Dad don't see us leaving the bathroom together naked! She crawls onto the bed and begs me to stick it in her. Step-Sis loves feeling me deep inside her, she's crazy for thinking she has to change anything about her body. I love watching her bounce her ass up and down on my throbbing cock!
I flip step-sis onto her back and pound her tight pussy until I feel like I'm going to burst! After I cover her pink lips in my thick hot cum, I shove my cock deep into her, releasing another few pumps of my cum into her pussy!
Tags:, pov bj , pov , flashing , horny step-sister , brunette , perky tits , creampie , family affair
Format: mp4
Resolution: 1280 x 720
Duration: 00:23:59
Size: 535 Mb
https://sendurl.me/go4EjZ8z/a_-_28537_MyPervyFamily_Piper_June_Insecure_Stepsister_Gets_Some_Reassurance.mp4