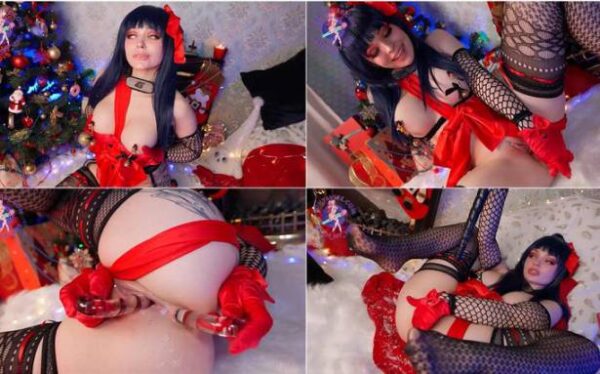 In my hot new cosplay video, I am the Christmas Hinata
Hinata was really looking forward to Christmas. After all, this is a very magical time. And when the time came, she began to unpack gifts from the residents of Konoha. Among the many gifts, there were a couple of unusual ones. She was presented with two glass lollipops, two awesome tentacles and a huge monster dildo!
Since Naruto was constantly busy, Hinata knew how to find a use for these gifts. She had a great Christmas night. She tasted the lollipops, and then inserted them into her holes, it was very pleasant for her to fuck herself and get double penetration. Next, she wanted to appreciate the tentacles. She was so horny that she tried double anal penetration for the first time, which completely filled her ass with creampie. And in the end, she took a huge monster dildo! She looked at him and was afraid, because she had never had such huge toys. But the desire for satisfaction and a strong orgasm took their toll. She fucked herself with great pleasure. Hinata's pussy felt unprecedented pleasure as this dildo stretched her pussy and filled it completely. Riding this huge monster dildo gave Hinata the strongest squirting. It was the best Christmas ever!
Format: mp4
Resolution: 1280 x 720
Duration: 00:46:14
Size: 2114 Mb
limp – 5301 Catch My Vibe XMAS Hinata DP and DAP and Tentacle Cum.mp4