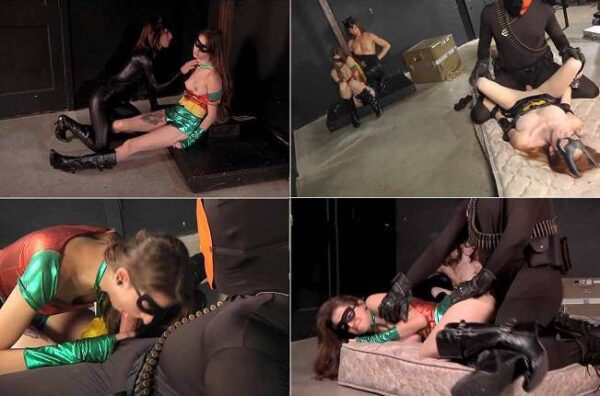 Batgirl and Robin are on the hunt, they've heard about a deal going down between Deathstroke and Catwoman, a powerful laser for a lot of stolen money. They follow their lead to an old warehouse and stalk through till the find the fiends in the middle of the exchange.
The heroines jump into action, Batgirl fighting Deathstroke and Robin against Catwoman, Batgirl is kicking ass, but Robin gets taken by Catwoman, who threatens her with the laser if Batgirl doesn't submit.
With no choice, Batgirl does what they say, and they tie the girls up, Batgirl to a winch with her arms over her head and Robin to a post. The two villains take their time humiliating their catch. Catwoman makes Robin worship her boots while Deathstroke beats on Batgirl.
Deathstroke takes Batgirl down and lays her on a mattress where he has her suck his dick, then lays her down and fucks her tight superheroine pussy, he flips her over to doggy style, then in cowgirl.
Format: mp4
Resolution: 1920 x 1080
Duration: 00:43:44
Size: 993 Mb