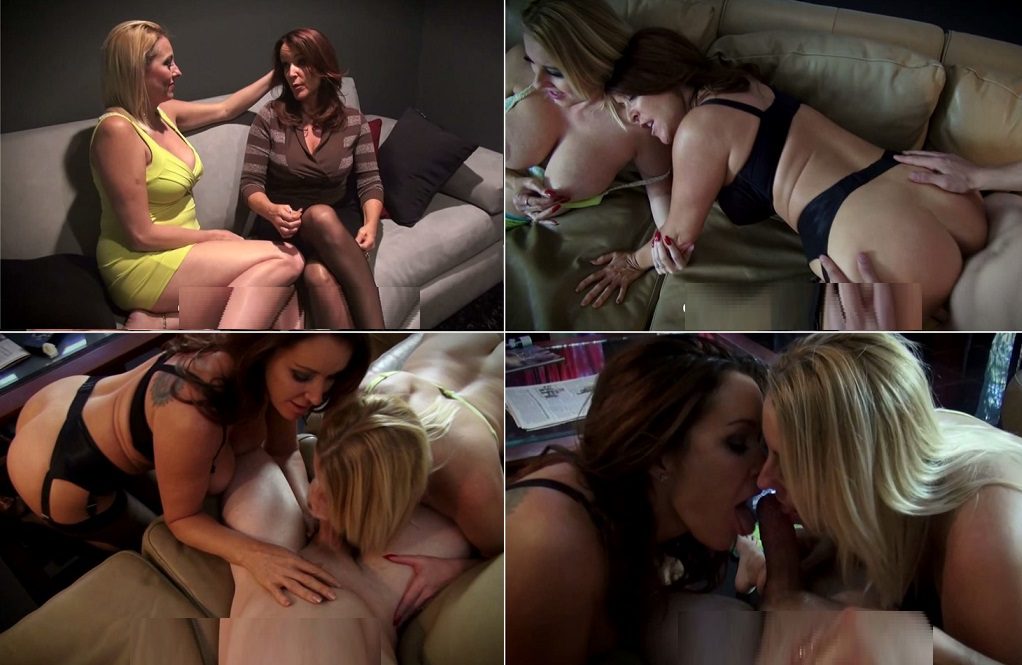 Rachel and her husband Joe live in a posh home with their 19-year-old son Kenny. Also living with them is Rachel's sister Dallas. Joe is a hard-worker who makes good money. Unfortunately, he is suffering from impotence, and it has been a long time since he was last able to please Rachel in bed. Rachel tries to accept the situation, but she is finding it increasingly hard. She is, after all, a very lusty woman. Meanwhile, young Kenny has his own problems with Joe. He sees his father as an overbearing grouch who is always lecturing him and putting him down. Even Dallas clashes with her brother-in-law on occasion. These various tensions and resentments in Rachel's family eventually come to a head in dramatic and depraved fashion. It all begins with Rachel deciding to dress up sexily for her husband in hopes of turning him on to the point that he can once again perform sexually. Her choice of outfit is an all-red combo of high-heels, skimpy panties, and a tight-see through lace top that shows of her lovely big breasts. When Joe gets a look at his sizzling hot wife, he thinks he can feel some of his old virility return. He is upon Rachel in a second, kissing and caressing her. Soon over on the bed, husband and wife are stripped naked and trying to make love in the missionary position. But Joe cannot get his cock up. He wills and wills himself, but to no avail. Rachel is gentle with him. She offers encouragement. This too fails. At the same time, Kenny happens by his parent's door and peeks in. He immediately grasps what is going on. While amused at his father's failure, he is deeply turned on by the sight of his mother. She is naked now – straddling Joe from on stop. Kenny can see her breasts clearly. It occurs to him that he would love to be there in his father's place. Kenny knows he has a big cock that has never let him down. How he wants to give it to his mother – to give her a fucking ten times greater than the one his father cannot even give her at all! Later, Rachel is in the living room, dressed in her revealing yoga attire, putting herself through some very nimble and provocative workout positions. Joe comes in, sees her, feels another rush of virility, and decides to try and make up for his failed earlier attempt at fucking. While Rachel is bending over, he moves in behind her shapely, stuck-out butt, and starts to feel it and rub his crotch against it. Rachel hopes her husband can get hard, but ends up disappointed. This time it shows. Little does she or Joe know it, but their keen-eyed son is hidden nearby, spying on them once again. He can barely hold off laughing at the clumsy scene. But his mood is different when he hits the privacy of his room. There he lies naked on his bed, stroking his cock with serious passion at fantasies of fucking his delicious sex-starved mom. Afterwards, when he is showering, he calls for his aunt to bring him a towel. By chance Dallas enters with it just as Kenny is facing her. She gets an eyeful of his big cock and screams with seemingly prudish surprise. However, being as hot-natured as her sister, she cannot help feeling turned on at the same time. For Kenny, the incident lends a new dimension to his fantasies. He now wants to fuck his aunt as well. With all the family gathered in the living room later on, Kenny mischievously asks his father for some advice on how to approach two women that he is attracted to. Joe is uncomfortable with the question, but Rachel and Dallas take an interest in it. They grow even more curious as Kenny hints that he is very sexually active. A dismayed Joe even detects a level of excitement in them. Sensing her husband's increasing anger, Rachel breaks the gathering up and turns everyone's attention to supper. Afterwards, Kenny finds his father in his office, and asks him for some gas money. The two begin to argue over responsibilities, and Kenny ends up muttering something about his father's impotence. Joe catches the gist of it, and flies in to a fury. He orders Kenny to hand over his cell phone and car keys, then tells him he is grounded. As soon as Kenny has stomped off, Rachel enters. Catching her husband at a bad time, she now has to hear him complain about her own spending habits. By the end of the episode, Joe has become a very unpopular man. Meanwhile, Dallas is upstairs packing her things. She has overheard all the arguments and had enough of the bad vibes. Kenny walks in upon her and calms her down. While giving his teary-eyed aunt a loving hug, he lets his hand rest on her breast. Before she knows it, Dallas is letting her nephew fondle it properly. A long, passionate kiss follows, then she loses all remaining control.
She pulls Kenny's cock out of his pants, strokes it to full hardness, and begins to suck on it. Only after some time does a feeling of guilt cause her to stop. Yet Kenny feels sure that he has won his aunt over. Leaving her to her thoughts for the time being, he goes and finds his mother. She too needs support – and someone to talk to. After she has spoken of how upset she is over the recent scenes with Joe, Kenny puts an arm around her shoulders and announces that he has a plan. A second later he turns and kisses his mother fully and firmly on the lips. Rachel eventually pushes him away – stunned. Going to see Dallas, she confesses what has just happened. Her sister replies with her own confession. Both women are struggling to get to grips with the situation when Kenny comes in. Now he tells them of his plan. It involves him becoming the new man of the house. He says he can only achieve this by breaking down his father – by demonstrating to him his superior fucking prowess. Those whom he fucks are to be his own mother and aunt. Nothing could be more crushing for Joe to than to witness his wayward son making a wanton adulteress of the woman he loves. When they have heard Kenny out, both Rachel and Dallas are amazed to find themselves consenting to the plan. A strange, wicked urge seems to taken possession of them. They know things with Joe have to change, and they are willing to do whatever is necessary. The job from here on in is quite easy for Kenny. First he slips something into his father's coffee. Then, after Joe has fallen asleep, Kenny carries him into the living room, gags him, and ties him to a chair facing the couch. On waking up, Joe sees Kenny sitting opposite him, naked, embracing his aunt. Rachel then struts into view – clad in skimpy lingerie, nipples exposed, sporting a big grin. Mockingly, she informs Joe that he is about to be replaced by a real man. She then goes over to Kenny. A torrid, forbidden sex-a-thon now plays out before the helpless husband's eyes. He groans in torment as he sees his wife plunge her mouth down over their son's big cock. Along with her sister, she licks, sucks and strokes it for the longest time. Following this, Rachel and Kenny enjoy a passionate, body-shaking, moan-filled fuck in the missionary and doggy positions. Dallas helps out by frigging Rachel's clit. Constantly the lovers pepper their forbidden acts with dirty taboo comments. To Joe's further misery, the two women throw belittling insults at him while lustily praising the fucking abilities of young Kenny. The sex continues with Kenny taking his aunt missionary style. Dallas's big tits jiggle as her young nephew thrusts hard and deep into her. Rachel sits nearby, legs spread, excitedly rubbing her pussy as she watches the hot spectacle. After Kenny has pumped his aunt to the heights of ecstasy, he sits back while she and his mother once again feast their mouths on his cock. The mere taste of it gets Rachel in the mood for another intense bout fucking with her son. Point-blank in front of a shattered Joe, Kenny takes her from behind for a second time. As his cock strikes at her sweet spot, Rachel gasps that she is on the brink of cumming. Yet still she fucks on – now stood astride Kenny's lap. Sometimes she slams herself down on his cock – her butt making a slapping sound from the impact. Other times she eases down, lovingly and sensually taking her son's meat deep into her pussy. Dallas urges her on throughout. Joe makes muffle groans of total despair. Finally, the two women suck Kenny off until he blasts out a huge load of hot creamy cum that coats their outstretched tongues, gets into their mouths, and trickles over their chins. They share their portions with a French-kiss. Afterwards, Kenny, Rachel and Dallas look triumphantly at Joe. Their plan has clearly worked. He is a broken man – his aura of power utterly gone. Kenny has indeed become the man of house. With the new leadership, Rachel knows that she won't be going without sex again. Her own son will provide her with all the pleasure she craves. Sensing the fun and passionate times ahead, Dallas decides not to leave after all. Excluding Joe, they are now the happiest of families.
Categories: Threesomes, Milf, High Heels, Garter and Stockings, Blow Jobs , Mommy and Son fantasy, Mother and Son, Milf, Mommy, Mama, mother son sex, Creampie, Big Tits, Blowjob, Busty, Cougar, Cow Girl, Cumshot, Doggystyle, Hairy, Hardcore, Missionary, Riding, Step Mom, Vaginal, mommy and son role play, hot mommy, taboo milf, blonde milf, blondes, Creampie, Family Fantasies, Family Roleplay, Family Secrets, Family Sex, blackmail fantasy, Fetish, Impregnation Fantasy, Incest family, Secrets Fantasy, Incest RolePlay, Incest stories, Incest Video, petite,Porn,POV, Role Play,Taboo, Download Free Incest Video.
Format: wmv
Resolution: 1280 x 720
Duratio: 00:46:31
Size: 1.56 Gb
https://filejoker.net/1enwfy1zyhkg/a_-_9496_Who_Wears_the_Pants.part2.rar