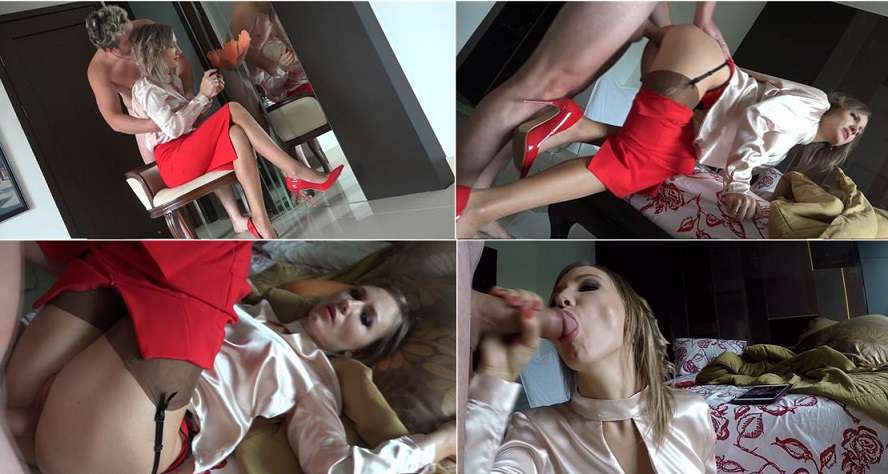 You get out of bed and approach her so close that your hard cock rubs against her skirt and her satin blouse… you caress her breasts through her satin blouse and kiss her neck… you gently touch her clit and dip your finger in her invitingly warm and moist pussy. She's so fucking horny! (Although you know she was already aroused by seeing your big waking cock).
You fuck her in different positions. She leaves her soft blouse and red pencil skirt on… you like it… sexy clothing makes you even more horny! You have sex on the bed… your stiff long cock penetrates her womanly treasure deeply… all the way in! You love seeing her spasms, tremors and hearing her gasps as an orgasm overtakes her gorgeous feminine body. This must have been the strongest and most overwhelming orgasm she had in the last 5 days.
Her body was totally satisfied… but her sensual womanly desire wanted more… you felt your hot semen backed up all through your long shaft while yearning to launch on her pretty face. Her eyes looked deeply into yours as she whispered, "Honey, I want your warm white liquid; I want to feel it and play with it". That was way more than enough for your body to lose all control… you shoot 4-5 huge jets of sperm on her face… the sensation of feeling brim full of your own semen the entire time you felt its hot spurts leaving your cock was so amazing… Alas, you were both happy… you made her day… she left for work… and you still had her panties.
Tags: c4sunderwear18 ,
Format: mp4
Resolution: 1920 x 1080
Duration: 00:22:40
Size: 2320 Mb