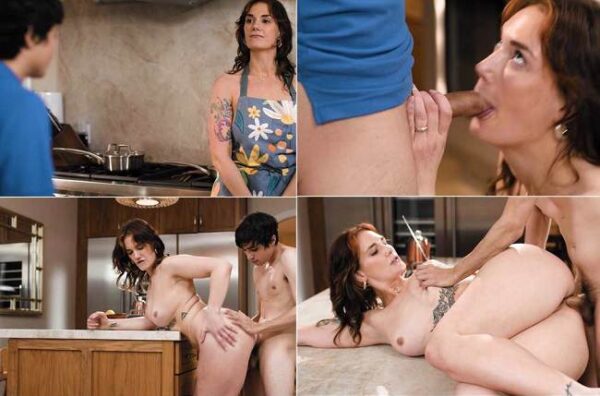 Siri Dahl prepares to make dinner while wearing nothing but an apron. As she finishes up a phone call with a friend, it's revealed that this is a sexy surprise for her husband, because she believes her husband will be home early while her stepson, Ricky Spanish, is out of the house for music practice. Once Siri hangs up, she turns on her favorite radio station and starts prepping dinner.
A short while later, Siri hears someone coming in through the front door. Thinking it's her husband, she calls out to him to come into the kitchen after he's done changing, because she has a surprise for him. Unbeknownst to Siri, the person who actually came home is Ricky! He's stunned at the sight of Siri's exposed butt and silently admires her. But eventually, Siri catches onto him ogling…
Siri is embarrassed and confused, saying she thought Ricky was her husband. It turns out the day her husband comes home early and Ricky has music practice is TOMORROW. Siri becomes even more embarrassed, and asks Ricky what it'll take to make sure he won't tell her husband about this incident.
That's when Ricky gets a naughty little idea… It looks like dinner will have to wait!
Format: mp4
Resolution: 1920 x 1080
Duratio: 00:38:30
Size: 1407 Mb