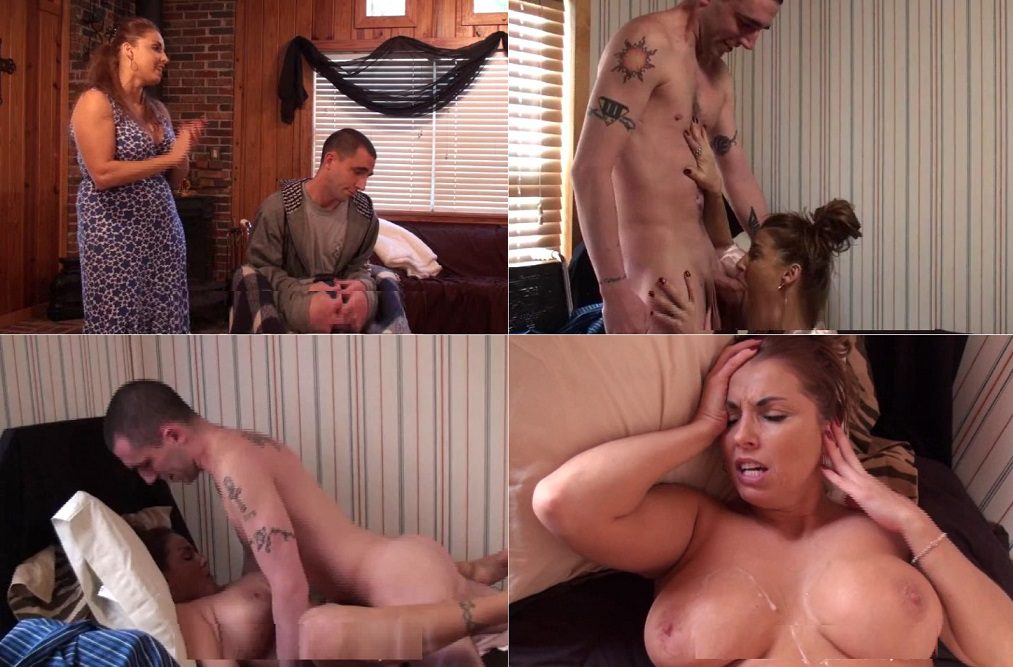 Faking and Fucking Crazy Mommy
Andrew was serving a 10 year sentence for a violent sexual assault. He was involved in an altercation in prison that resulted in him being in a wheelchair and capable of very little movement or speech. He granted early parole based on his condition. Stacie was very naive. She did not believe that her son did anything wrong. She was convinced that the girl had lied about the assault and that her son was innocent. His mother Stacie picked him up when he was released and brought him home. The doctors told her that there was no physical reason for his inability to walk and talk. The first problem she had to deal with was a non-wheelchair friendly house. She was ill equipped to deal with this situation. She tried to be positive. She always stayed upbeat with Andrew. Stacie had to do everything for her son. Little did she know that Andrew had been faking his problems in order to get early release from prison. He was going to reveal it to his mother but decided to hold off to make sure no one was watching him from the prosecutor's office. While Stacie was helping him into the bed for the night she could not help bending over a lot. He got an eyeful of his mother's tits and ass every time she bent over. He had not had a woman since that little whore that got him put in prison. He was horny as hell. He jerked off that night thinking about those big tits that his mother was dangling right in front of his face. She was just like that little whore. She wanted him to fuck her. It was not his fault, she was asking for it. The next morning she came in the room and told him it was time for his bath. He immediately got hard thinking about his mother bending over the tub and washing him. She got him into the wheelchair and pulled off his stop. When she opened his pajama bottoms his hard on popped. She immediately reacted by covering up his cock with her hands and looking away. He could not stand it any longer. He stood up and grabbed her by the hair. He started fucking his mother's face as fast as he could. She was shocked not only by the cock shoved in her mouth but to see her son standing with a normal expression on his face. He pushed her back on his bed and yanked open her robe. He pulled off her panties and yanked off her bra. In less than a minute she was naked, on her back and getting her son's big cock shoved up her pussy. He told her that he had to fake it in order to get out of prison. She could not believe what she was hearing nor the fact that her son was pile driving her pussy with the biggest cock she had had in years. He did not last long. He pulled out his cock, sat her up and blew his load on her face. She fell back on the bed, crying with a load of cum dripping off her chin onto her tits. She was shell shocked.
Categories: All sex, Mother and Son, Milf, Mature, mom fuck son, mother love son, milf, mama, mom, Incest, Blowjob, Cowgirl, Incest Roleplay, Natural Tits, Incest, Family Fantasies, Family Roleplay, Family Secrets, Family Sex, blackmail fantasy, Fetish, Impregnation Fantasy, Incest family, Secrets Fantasy, Incest RolePlay, Incest stories, Incest Video, petite,Porn,POV, Role Play,Taboo, Download Incest Video.
Format: mp4
Resolution: 854 x 480
Duration: 00:11:19
Size: 170 Mb
https://filejoker.net/m3v7fsk8y8a9/a_-_8484_Stacie_Starr_Faking_and_Fucking.rar