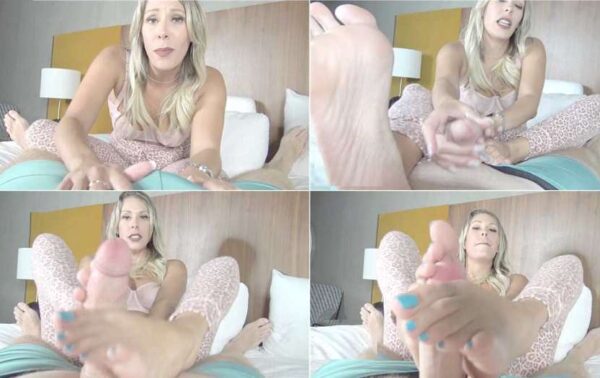 Do you need a little extra something to get to bed, hunny? Your step-mommy's bare soles are yours for the taking. That blue polish matches your undies and will look even better around your rather excited throbbing cock.
As soon as she takes your cock out of those underwear, your cock shoots up and grows immediately. What's your favorite part? Those long toes, that deep arch or those soft soles? She told you that she would put you to rest and tuck you in bed. It's time to be milked by your step-mommy's feet until there is nothing left.
Those feet are going to be the ones to seduce you, mesmerize you and to absolutely control you. It'll be those perfect size 8 feet that tell you when to cum. A little bed time slumber party foot jerking. What kind of party did you think she would have? The funnest parties are the foot parties!
Your step-mommy loves tasting her feet on your cock as she sucks the bare sole smell while blowing and jerking your growing cock. It gets bigger each time she wraps her soles around your cock as you eagerly await your bedtime milking. You are going to do exactly as she wants and says. Accept it! You are inferior and she is superior as she controls your orgasms.
This is about control. Your step-mommy owns your orgasms. She has every ounce of power and will tell you when to cum. And once she gives you permission, that warm bed-time milk is hers!!
Tags: footjob, cumshot, blowjob, POV, cfnm, HANDJOBS, FOOT FETISH, BAREFOOT, SOLE LICKING, BLOW JOBS.
Format: mp4
Resolution: 1920 x 1080
Duration: 00:09:01
Size: 1141 Mb
https://sendurl.me/4eMM5yVe/a_-_29012_Sleepy_Time_Footjob.mp4