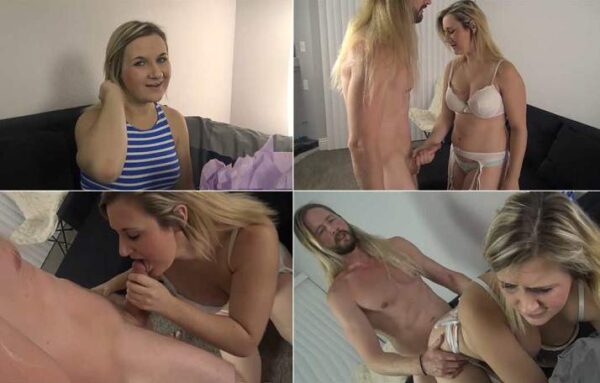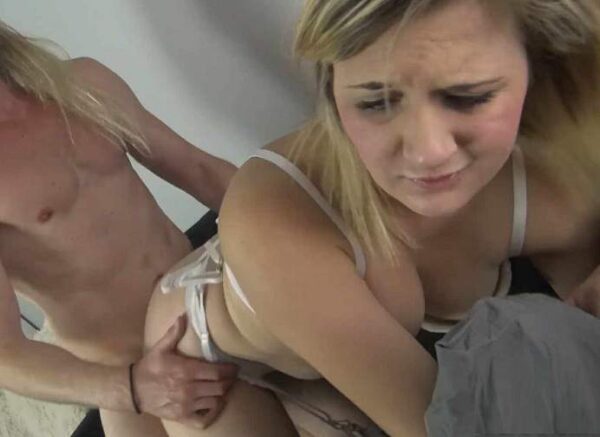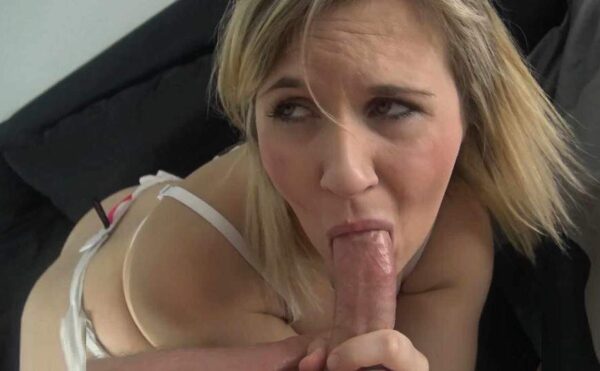 "Happy Birthday, Step-Mom!" Jon said cheerfully. Step-Mom's eyes lit up and a huge smile ran across her face. "Oh my god, you remembered!" she said unable to contain her happiness. "That's so sweet of you!"
Step-Mom looked down at the pink and white striped bag and giggled, "Oh, it's from Victoria's Secret? You went in there by yourself? You weren't embarrassed!?" Of course her step-son was a little shy when he went in, but that didn't stop him from getting Step-Mom a gift, especially on her big day.
"You're my step-mom, and I love you – I wanted to do something nice," Jon said sweetly. "And you're so pretty." Step-Mom blushed, then began to try and guess what was in the bag. "They have the best perfume there," she said, but that was far from what Jon had actually gotten her.
Step-Mom dug into the bag and pulled out a bra, thong, and garter belt. "Oh…oh honey," she said awkwardly, "you got me some lingerie?" Of course she was happy with the gift, but her step-son wanted her to try it on, too.
"If you really like it, just try it on," he said. "Oh sweetie, I'm sure it fits. It-it's great, and this is padded, which is really good," Step-Mom replied trying to steer the conversation into a different direction. But her step-son wasn't going to let up – in fact, he was persistent that she try it on.
"No seriously, Step-Mom…please, just try it on," Jon begged. Step-Mom offered to go into the bedroom to try it on, but he wanted to see how it looked in front of him. "You know, I could tell you what I think, too," he finished saying.
Jon brought up the fact that this was Step-Mom's first birthday without Step-Dad, and that he wanted her to feel good about herself. So, she finally gave in just to make him happy. "Oh, I know it's gonna look great on you – you're so beautiful, Step-Mom," Jon reminded her. He always thought the best of his step-mom, and honestly, even fantasized about her sweet, innocent figure in some revealing lingerie.
"So, I'll try it on, so if you could just turn around and not look," Step-Mom told him. "You-you know what I mean." She started to strip down, and even though her step-son promised not to look, he couldn't help himself. He took quick glimpses, then looked back down so he wouldn't get caught.
"Honey, you can't watch me," Step-Mom strictly reminded him. "I'm just excited 'cause I like making you happy," Jon said innocently. Once Step-Mom was dressed, she faced towards her step-son, her arms over her exposed skin. "I'm sorta embarrassed," she smiled shyly. "But it looks really good."
Jon was ecstatic. "You look really sexy, Step-Mom. I don't know if I should say that, but you really are so pretty," he told her. "Just-just turn around a little bit." Step-Mom's eyes widened, "But it's a thong…I'm sort of exposed," she told him, but then gave in. She did a quick turn, and then faced towards him again.
Jon had to walk away because he had accidentally gotten a boner from seeing his step-mom that way. "Oh, oh is something wrong?" Step-Mom asked. Once she looked down, she gasped at the huge bulge coming from her step-son's shorts. "Do-do you have a hard-on? I am so sorry. I should have never put this on in front of you, this is my fault," she started saying. Jon refused to let her take the blame, but Step-Mom felt so guilty, "You shouldn't see your step-mom like this. I didn't mean to give you that – I'm really sorry."
"Let me…help you," she told him. "This is my fault." But her step-son didn't understand what she was saying at first. "What do you mean?" he asked. "How are you going to help me?"
This clip includes: Fifi Foxx, Cock Ninja, step-mom/step-son, step-mom's birthday, step-son gets her an inappropriate gift from Victoria's Secret, lingerie, bra, thong, garter belt, step-mom is happy but awkward, step-son wants her to try it on in front of him, step-mom reluctantly does it to make him happy, embarrassment, shy, blushing, step-son gets accidental hard-on, step-mom feels really guilty, tells him it's her fault, wants to help him get rid of his erection, handjob, blowjob, ball sucking, sex, fucking, doggystyle, cum in mouth
Format: mp4
resolution: 1920 x 1080
duration: 00:16:48
size: 321 mb