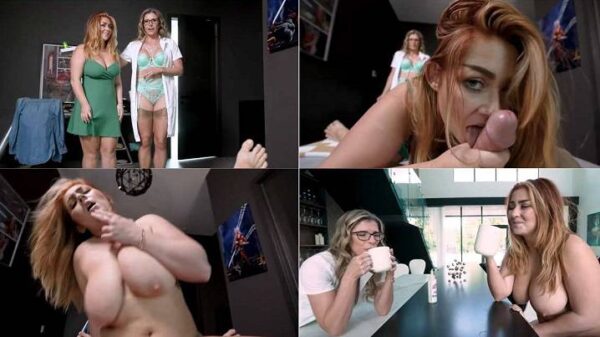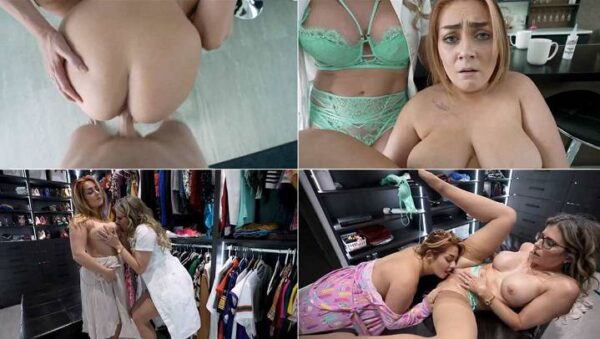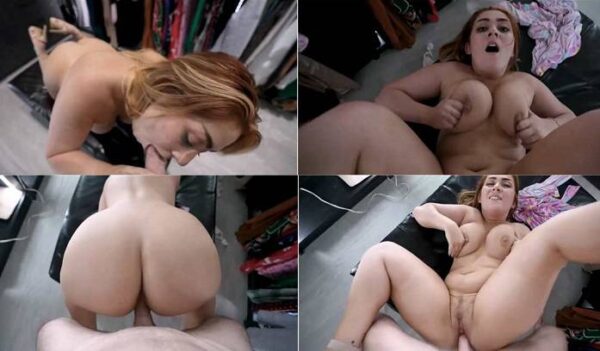 Back To The Present-
Chloe Cooper is lying down on her bed in a green dress, staring at her phone. She is really bored, as she always is, in this house! Cory Chase appears wearing a white lab coat with mint green lingerie underneath. Cory tells Chloe that she is going to bring her 20 years into the past, so she can visit her step-dad as a teenager! Cory opens a portal up, and she and Chloe walk through the portal to get to the Multi MILFverse where Chloe will be able to have more fun than she is in this universe! Once they walk through the portal, they walk into a younger Luke Longly's bedroom. Cory introduces Chloe as their step-daughter from the future. Chloe pulls out her huge tits and asks her step-dad if he can handle her and her big tits. Cory leaves the room, so Chloe can be alone with Luke. Chloe starts to give Luke a blowjob, while he plays with her massive tits. After she get his cock nice and hard from a blowjob, she hops on top of him and she starts to ride his cock in the cowgirl position. She lies down on the bed in the missionary position next, and she spreads her legs. Once he is done using her pussy, she runs off to meet Cory in the kitchen…
Coffee With Step Mom-
Cory is standing in the kitchen, sipping on a cup of coffee; Chloe walks into the kitchen, because Luke is done fucking her pussy and her mouth. Cory offers Chloe a cup of coffee, as Luke walks into the kitchen next. Cory tells Luke that Chloe wants more of his cock! Chloe sits down on the kitchen chair, and Cory hands her the bottle of lube so Luke can fuck her pussy. Chloe licks and sucks her own nipples while the younger version of her step-dad fucks her pussy. Chloe flips over to the doggystyle position and Luke continues to fuck her from behind, while Cory stands next to them watching.
Let Step Mom Warm You Up-
Cory is standing in the middle of her huge walk-in closet. Chloe walks into the closet, and it doesn't take long before she pulls her huge tits out from under her dress. Cory helps Chloe take her white dress off, followed by her white thong. Now that Chloe is completely naked, she starts to make out with Cory. Chloe lies down on the bench in the middle of the closet, and Cory starts to eat Chloe's pussy out. Cory finger fucks Chloe's pussy and then she puts her fingers in Chloe's mouth. Once Chloe cums, the two women switch places and Chloe starts to eat Cory's pussy next. Chloe pulls out the Hitachi vibrator next and she holds it on Cory's pussy. Once Cory has an orgasm, they switch places again, and Cory holds the vibrator on Chloe's clit this time. They start to scissor each other with the vibrator in between them next, and they just can't stop cumming!
Tasting Step Dad-
Cory leaves the closet to go looking for the portal gun, and she leaves Chloe alone to have some naughty fun with Luke. Luke takes his cock out from under his pants, and Chloe starts to give him a sloppy blowjob. Chloe gets into the doggystyle position and Luke starts to fuck her pussy from behind. Her big ass bounces with every thrust! She flips over on to her back next, and Luke starts to fuck her pussy in the missionary position. Her moans get louder with every thrust, and she eventually flips back into the doggystyle position. When he is ready to cum, Chloe gets down on her knees and she opens her mouth wide. Luke jerks his cock off into her mouth and on her face! Afterwards, Cory grabs Chloe and together they walk through the portal to go back home…
Format: mp4
Resolution: 1920 x 1080
Duratio: 00:53:29
Size: 1668 Mb