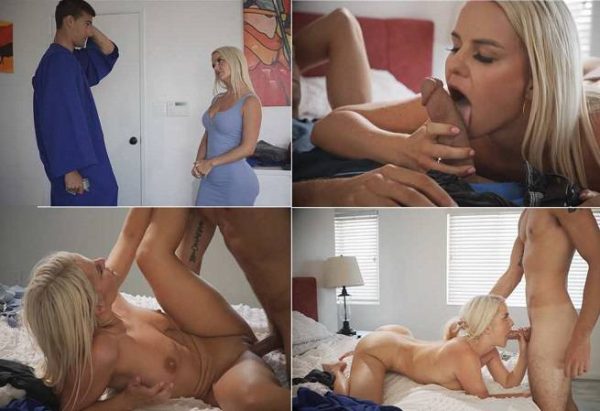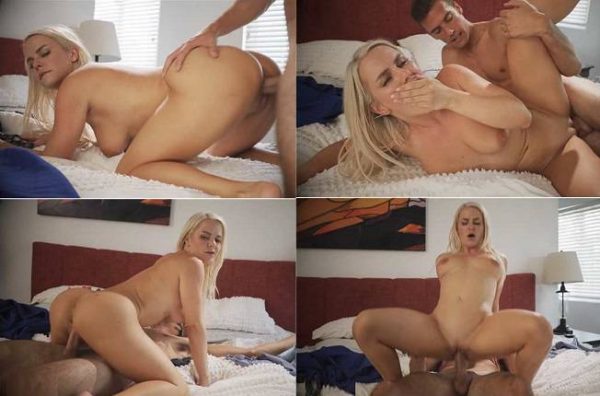 It's comical, or is it? Jason (Pierce) is the valedictorian of his class but late for the ceremony as he stands in his bedroom bewildered by the huge erection sticking out beneath his graduation gown.
Stepmom (Slimthick Vic) comes in to remind him of his duties and is shocked at the sight of the hard-on. "It happens when I'm scared. I just can't get it down", Jason explains. She's immediately afraid that his dad will blame her for the predicament -all because her husband wanted Jason to bond with her but lately has been jealous concerning their subsequent closeness.
Jason shows her duct tape he's used previously to try to hide the condition, but it's painful and Vic rejects that solution out of hand. Jason points out that looking at magazines or watching porn doesn't help. She walks over to his dresser and pulls out a pair of her panties that he's purloined. He apologizes, but surprisingly she says knowingly: "It's okay. You always bring them back to me, when you're done with them".
"You know what? This is what we're going to do: I'm going to put them on, and then we need to experience the warm, fresh scent", she declares. As she leaves him to put them on, his dad's voice cries out from downstairs, haranguing them how late Jason is, and he'd better be ready to appear at the graduation, pronto. Vic tells her husband to be patient, and returns to Jason, saying: "Let mommy take care of this, okay?". "We're going to do something a little unconventional. She puts on the panties (she wasn't wearing any) and announces: "I want you to stroke to me. Imagine I'm not your stepmommy – I work for your father. Just relax, enjoy yourself". She poses for him in her sexy blue lingerie, leaning away from him and twerking. Then stripping off her bra, she sits atop him on his bed and does a sensual lap-dance.
After french kissing, he suckles at mommy's breasts for a prolonged time, arousing her as well. "Close, but it's not happening", he reports. "Progress is good, sweetie, do you want to show it to mommy?", she murmurs. Jason opens his jeans, and out pops his long dick. She whispers: "Mommy wants to taste your cock", and soon she's licking it greedily, and can't resist taking it deep into her throat. "You like feeling the back of mommy's throat?", she asks. "Oh, yes!", he replies.
They're suddenly interrupted by a loud knock on the bedroom door. "Almost done!", Jason yells. Vic whispers: "I'm going to help you sweetie, okay? Don't take this the wrong way. I'm just trying to help, okay?". She sucks some more, then wraps her breasts around his erect dick to rub it up and down expertly, murmuring: "Such a big-boy cock". "I want you to cum in mommy's mouth, can you do that for mommy?", she continues. But another knock on the door stops them again. More drastic measures are called for, and mom announces: "Don't think this is wrong. I'm only trying to help". Vic lays down on her back and removes her panties, saying: "I want you to enter me baby". Watch the taboo scene unfold…
Format: mp4
Resolution: 1920 x 998
Duratio: 00:38:03
Size: 1158 Mb