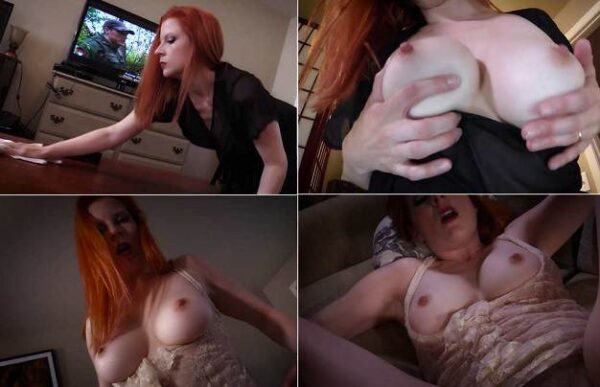 Scene 1: You are sitting on sofa watching TV. Step-Mom is cleaning in a see-through robe & you can't help but sneak peeks at her ass when she bends over. She hurts her back & has to lie down to rest. Step-Mom is napping on the sofa & you're staring at her ass. You lean in close & pull the robe up higher. Now you can see her whole ass. Step-Mom wakes up & pulls the robe back over herself & apologizes. She says her back doesn't hurt anymore, stands up & says that step-dad should be home any minute so she's doing to freshen up. She walks toward the bathroom.
Scene 2: You follow step-mom into the bathroom & sit on the toilet to talk to her while she's primping in the mirror. You tell step-mom that you've been practicing lifting heavier weights. You ask if you can try to lift your step-mom, but she says "I don't think so, but I can sit on you a little & see if you can handle the weight." So step-mom sits on you on the toilet, with her tits in your face because you're shorter than she. You get hard & your step-mom can feel it. She says, "Oh no. I'm sorry honey but we have to make it go away because your step-father will be home at any moment." She says she's going to help you by sitting on you & rubbing up against you, but she has to leave her clothes on. Your step-father calls out to her when he gets home, so she starts to leave. You complain that you didn't get to finish, but she says it's not her fault & she must leave. Step-Mom is such a tease.
Scene 3: Step-Mom & step-dad are napping when you come into their bedroom. You slowly pull the blanket from step-mother & lie down next to her & touch her breasts. She wakes up & loudly whispers "Are you stupid? Your step-father is napping right next to me. You can't do that." She stands up & pulls me with her out of the room.
Scene 4: She pulls you with her to the sofa. She tells you not to turn on the light. "You want to fuck your own step-mother?" She sucks your cock first, then she rides you hard & makes you fuck her in missionary. "I can't believe I'm fucking my own step-son,' she says, but you both cum at the same time…. step-mother & step-son cumming in unison.
Format: mp4
Resolution: 1920 x 1080
Duratio: 00:24:16
Size: 1360 Mb