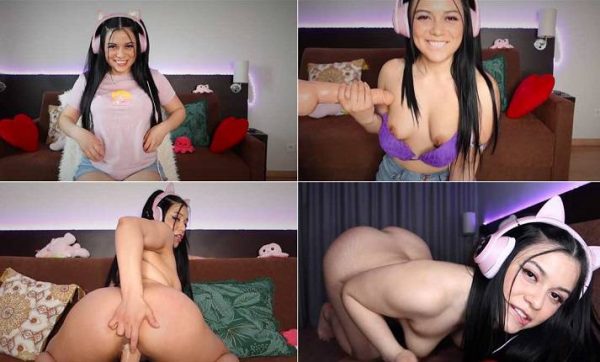 Everything happens from the POV of Twitch viewers. My mood: giggly, happy, horny, playful
I'm a twitch streamer on the rise, living with you, my big brother. My twitch fans are so supportive. You, my brother, always think I'm being so loud, but you're just jelly my twitch fans are so fun! After interacting with my viewers, I share to them how I'm struggling to pay rent. I give them some ideas…. but they ask me to flash my bra, panties, ass… my twitch fans are suuuuuch perverts! Razz But, I could use the money. They start tipping a lot for flashing my undies and boobs even if I could get banned! (Twitch interaction and teasing: 14 min))
I try to chat with them about other SFW themes. But one subscriber tells me he wants to see me suck cock on camera! I could get banned, I can't do that! And I have no one around besides my brother. They suggest me to give my brother a blowjob. It's so perverted!!! But…my brother and I need to pay rent, otherwise we'll have to go back living with mom and dad.
I make you come into my room. You're shocked I tell you I want to suck your cock for my subscribers to see. You accept, and everyone starts tipping a lot while looking at me sucking your big cock (8 min). Then, they suggest me we should fuck. You're a little hesitant, but I easily convince you. You then fuck me doggy (3 min), cowgirl (7 min), cowgirl with face looking at the camera (no dildo visible, 3 min). I cum so hard twice over my brother's dick, and everyone loves looking at my ass bouncing on his cock!!
Finally, everyone wants you to cum all over your slutty sister's face. I jerk you off, and want you to give me a huge fucking load on my face for all my subscribers to see!!!
After I'm covered in cum, I am shocked to see i was banned by twitter! My family fucking channel got banned brother!
Format: mp4
Resolution: 1920 x 1080
Duratio: 00:42:30
Size: 987 Mb