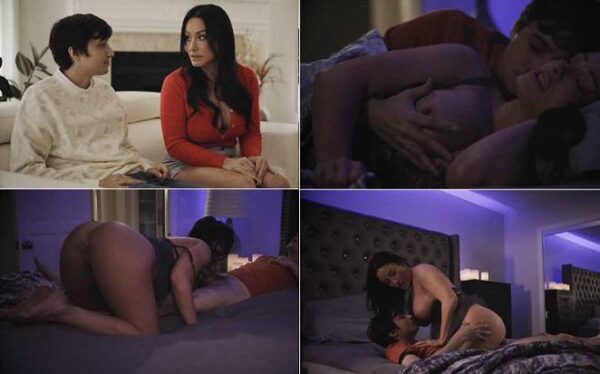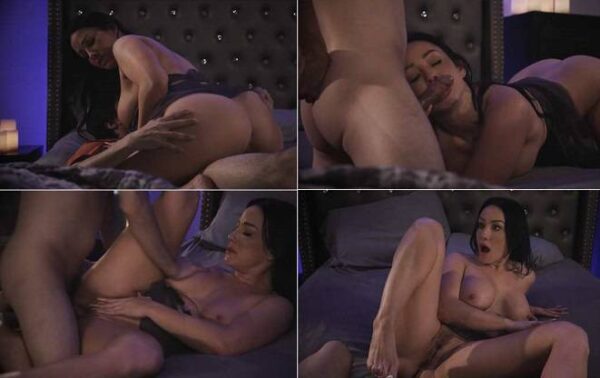 Stepmom (Jennifer White) enjoys engaging in good-natured teasing of her stepson Ricky (Spanish), having him move the living furniture around at her whim. He's embarrassed when she touches him, like an old-fashioned "bubby" pinching of his cheek, and even Jennifer is a bit sheepish as they flirt. She excuses herself, saying "I should get some work done", then immediately changes her mind and they sit down together on the couch.
She takes his hand in hers, and their playful banter resumes, with Ricky referring to her in the third person: "Some lady I live with keeps having me push pianos around. But she's hot". Jennifer is embarrassed. "I don't mean to make you uncomfortable -it's just I don't know how to talk to you. I'm not used to spending time with young men like you. It's not you -it's the situation", she contends. "Maybe I'm just bored , pushing around furniture, and thinking things I shouldn't be thinking", she continues.
"Like what?", Ricky asks. "Like kissing you", she blurts out. "I've felt the same way", he admits. "So we're both weirdos!", she jokes. They nervously continue the conversation, and Jennifer impulsively leans over and kisses her son gently on the lips, but immediately pulls back and apologizes. Pondering about what his dad might think of them, she gets up to leave, but Ricky stops her, saying: "Who cares what anyone thinks?". Jennifer breaks off from him and says: "I care. Sorry, I just want to be a good person", and she exits stage left, leaving Ricky alone on the couch to ponder.
That night, she's asleep in bed, when Ricky sneaks into her bedroom. He watches her sleep for a while, then climbs into bed behind her to cuddle, while mom is still half asleep. He begins caressing her body, and she whispers "We shouldn't". He rubs his dick back and forth across her bare pussy underneath the covers. As they both begin breathing harder, she murmurs: "Just a little, not the whole thing". Ricky slowly slips his rock-hard dick inside her pussy, and she moans in pleasure. Watch the taboo scene unfold…
Format: mp4
Resolution: 1920 x 1080
Duratio: 00:39:41
Size: 1235 Mb