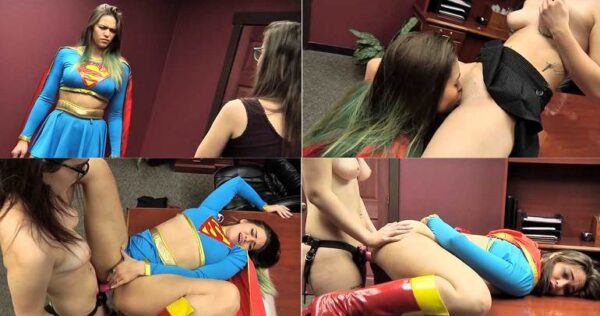 Supergirl is out for a stroll in New York City when her super sensitive hearing catches something, shes quickly off to the nearest bathroom to change.
She barges into an office to find a Witch rummaging through. The Witch attacks her with her powers but they just bounce off of her. With the flick of her wrist she casts a spell on her, freezing her and making her obey everything she says. The Witch decides to put on a show for the security cameras.
She kisses Supergirl, who resists, before groping her breasts, sucking on them and fondling them while Supergirl tries to break free. The Witch makes Supergirl suck on her nipples and eat out her pussy, licking and sucking on her clit, eventually fingering her as the Witch moans with pleasure.
She removes Supergirls panties, stuffing them into the superheroines mouth as she devours her pussy, switching to a 69 position so both of them can get off.
Now that the foreplay is over, the witch reveals her huge pink dildo, summoning lube from another dimension. She fucks Supergirl as she begs for more, the dildo pounding her tight pussy. She bends her over and fucks her until Supergirl supercums!
Format: mp4
Resolution: 1280 x 720
Duration: 00:18:37
Size: 333 Mb