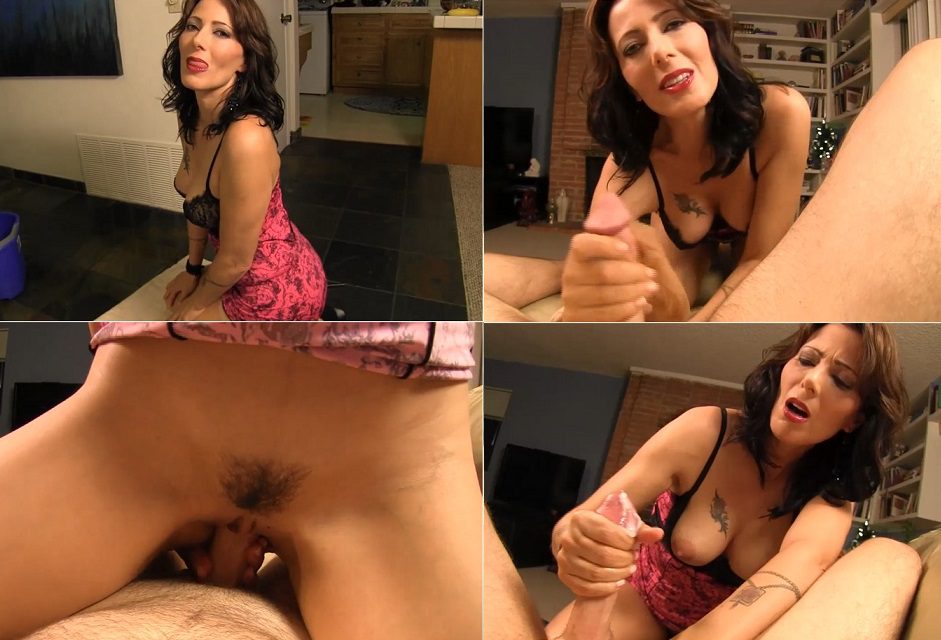 Stepmom transforms from maid to super babe – Handjob, Porn Taboo
Frumpy step-mom transforms into lingerie-clad super hot MILF and jacks off her horny young son!
I was pretty excited to get out of school early today. Some days college requires to much concentration for me. I was looking forward to going home and laying around in my room until dinner. Ahh, lazy days like these are so much appreciated. I had no more than walked in the house when I saw my stepmom down on all fours washing the slate floor. Sure, I fantasize quite a lot about my stepmom. She has a pretty nice body for her age and she is super cool to me. I have to stretch my imagination when I'm rubbing one out to her though because she always dresses so, how do I say.tacky? I mean I know she is at home all day cleaning and other motherly duties around the house but she doesn't know how to co-ordinate her clothes at all. She throws on whatever happens to be within reach. Not that I mind when she wears her old jean mini skirt but if she could only do something with her hair and wear some lipstick it would sure help my cause when I'm alone in my room frantically trying to pop a load without getting caught. When I saw her today in her usual jean skirt and old layered shirts I immediately started transforming her in my mind to the perfectly poised and sexy mom I want her to be for my cock cranking fantasy. She wouldn't make small talk with me, she would arch her back as she is on all fours so her ass is nice and high then invite me to follow her ever so gracefully as she prepares me for a little motherly love on my young manhood. She would be dressed in a hot pink chemise, which showcases her breasts and curve of her hips. She speaks slow and seductively saying how happy she is to have me home early so she can help relive some of my pent up stress from school. She touches me with her perfectly pedicured feet inside her silky pantyhose. I lay back and watch as she slides her hands down her hose, and plays with herself and watched my dick grow as a result of her titillation. I love when she wears stockings because it makes me think of all that goodness wrapped tightly inside. I feel my worries of the day melt away as she strips her stockings off and her panties so she can slide herself onto my knob. Her moist pussy waxes my knob and my shaft as she slides up and down. When my dick is nice and lubed with her pussy juice she uses those mature hands to stroke me off so damn good. She knelt in front of me so I could see her tits and her bush while she milked the cream from cock. She gave me her silky stockings that she thought said Mommy on them but I haven't the heart to tell her otherwise. It doesn't matter, she wiped my cum with them and told me to smell them later when I hear my dad fucking her in the next room to remind me what she will do for me anytime I want. A tender loving mommy hand job.
Categories: Mother and Son, Incest,Family Therapy, MILF, Big Tits, Handjob, Mommas Boy, POV SEX , Zoey Holloway, pov, mom, mommy, mother, son, family, secret, love, mature, affair
Format: mp4
Resolution: 1280 x 720
Duratio: 00:19:04
Size: 293 Mb
https://filejoker.net/d3ilkcme5wta/a_-_11171_Stepmom_transforms_from_maid_to_super_babe.rar