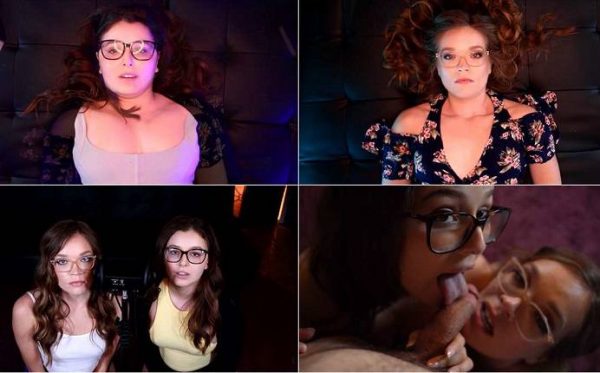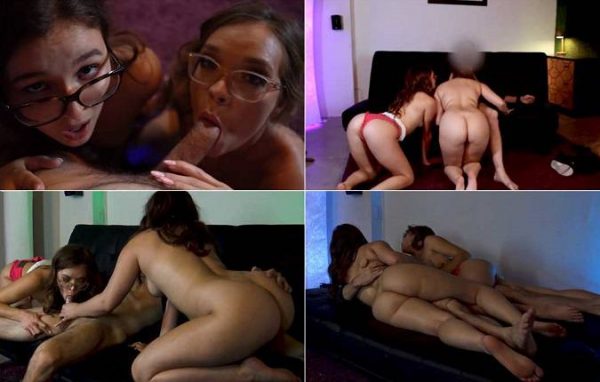 Session 1: Katie Kush and Leana Lovings hate each other and their sorority has had enough, either they get counseling or they get kicked out of the house. So the girls go to see the good doctor for a round of Trance Therapy. Dr. Holden gets them relaxed with some breathing exercises as he delves into their minds. Their hatred stems from the fact that they're both in love with the same man.. "He's mature" the doctor explains and after a flash of light the girls agree, he IS mature. This MUST mean they like older men, but they're confused because James isn't THAT much older than they are. After another flash of light the girls can't help but agree, they DO like older men. Their bodies squirm as they lay in a trance. They LOVE being submissive for him as they suck on the doctor's thumb, as he squeezes their tits, as he places his hand around their neck. They beg to feel his kiss, to please him. They're SO in love with him. They've loved him from the moment they saw him. The doctor has a homework assignment. Every morning, afternoon and evening they will masturbate thinking about him and how desperately they want to earn his love. But, the only way they'll be able to cum is from the thought of sharing him. They return from their trance oddly turned on by the doctor. They have a knot in their stomach and can't help but give him a hug. As they pull back they look up into his eyes with longing. Desperately hoping he'll lean down and kiss them, but he just says "I'll see you next week"
—
Session 2: Katie and Leana return for a second session proud to say they didn't fight once all week. In fact they've never felt better in their lives and couldn't wait for a second session! Dr. Holden explains that this week they're going to do 'Whisper Therapy'. He has the girls get on their knees and look into his light while they whisper into a pair of ASMR microphones. Katie's Fantasy: Katie confesses that as soon as she left his office she was fantasizing about the doctor following her to the sorority house and sneaking into her room late at night. As she tells it, she can picture it happening to her, but not in her bedroom, but right there in the office. It can't be real though, it's just in her head right? She thinks about him spreading her legs and pushing himself inside her. With each thrust she falls more and more in love with him. "But you can't cum can you?" The doctor asks. Ashamed she admits she can't. "What finally makes you cum?" he asks. Seeing her sorority step-sister Leana watching them in the doorway. The doctor is pleased with her fantasy and rewards them by allowing them to cum for him. They are SO grateful.
Leana's Fantasy: Leana had a full day of classes yesterday and couldn't get home to play with herself in the afternoon like the doctor commanded. She ran out of class desperate to find a place to fuck herself. She found a quiet study nook in the library, slid to the floor and pulled her sopping wet panties down around her ankles. She could feel his presence above her and opened her mouth as he pulled out his cock, begging to be used by him. "But you weren't alone were you?" the doctor asks. She shakes her head a little ashamed. She wasn't. Katie was standing right next to the doctor stroking his cock and kissing him. Again the doctor is pleased so he permits them to cum again for him.
Training: The doctor explains that sorority sisters love each other and that he wants to see them kiss and tell the other they love them. The girls kiss and say 'I love you', but it's not good enough so the doctor has them do it again and again until he sees true love and passion in their eyes. Three. Two. One. The girls return from their trance and the doctor tells them they were great. Instinctively they respond with 'Thank you'. Before leaving Leana works up the courage to ask if she can kiss the doctor and instantly Katie says she wants to kiss him too. The doctor doesn't see an issue with it, so long as they promise not to tell anyone. They promise and spoon up next to him, kissing him back and forth until he pulls away and says 'I'll see you next week'. [NOTE: This description is what the girls SAY in their fantasy, not all of what is said is acted out in the slow-motion footage]
—
Session 3: Katie Kush and Leana Lovings Objective: Complete submissive training. Turn them into Harem recruiters. The girls return for their third and final session dressed like they're ready to start working at a strip club. They don't need a trance to know they want to serve and pleasure the doctor, but he needs to put them in one final trance before they can worship him. It takes no time for them to fall under his power as they tell him how much they love him and how they've just been thinking of him ALL week while playing with each other. "The thought of not earning my love terrifies you doesn't it?" the lights flash and the girls become worried. They promise to do anything he wants, they beg for a chance to prove they can serve and worship him. He says he will but they need to start bringing a new sorority step-sister to therapy each week until the whole house is in love with him. The lights flash and they promise to do as he commands. Three. Two. One. The doctor comes out and sits between the girls as they kiss him and rub his growing cock. They get on their knees and he lets them begin to service him with their mouths. They tell him how much they love him as they eagerly share his cock. Licking the head, one sucking his balls while the other takes him deep, lips on either side going up and down…they HAVE been practicing how to share. They take turns kissing him while the other sucks, telling him that they love him, how they're devoted to him, how pleasuring his cock makes them SO submissive. Leana give him her tits to suck on with Katie bobs up and down then Leana gets on her knees to wrap those tits around his cock. She enthusiastically bounces up and down as Katie kiss him, telling him how badly they want to milk him. Good girls share and they want to bring more sorority sisters to him. There's at LEAST 14 and they're always adding more. He lays back and has them stroke him and beg some more. Once he's close Katie drains his cock into her mouth until some spills on her fingers. Leana rushes down to get a taste. They're SO grateful he permitted them to prove themselves.
Format: mp4
Resolution: 1920 x 1080
Duratio: 01:07:29
Size: 2520 Mb